SEE OUR FEBRUARY VALENTINES MONTH SPECIAL
Are You an Executive and want guidance from a seasoned executive?
Would your management team benefit from the training you don't have time for?
Do you want to learn how to make your company more successful?
Is this your first startup company and you want to "do it right"?
Are you a first-time CEO or an experienced CEO facing some tough challenges?
Do you need to raise capital to start or grow your business?
Are you a non-Technical executive who wants to learn more about Website, SEO and Digital Marketing?
Do You want to join a Mastermind Group to share and learn from other Executive challenges?
Idea To Growth LLC was formed to help Entrepreneurs and Executives learn the Best Practices for:
"Helping Your Business Grow Stronger!"
"The Best Stories Ever Told Consist of 7-Elements."
⓵ "The 1st Story element is you – the Client – who is always the Hero of the story."
⓶ "The 2nd Story element is the Challenge that the Hero (you, the Client) are facing."
⓷ "The 3rd Story element is the Hero (You, the Client) seeks a Guide (Me, the Coach). The Hero is never looking for another Hero. The Hero is looking for a Guide to point out the Paths to Success and where the enemies are waiting to try to kill the Hero."
⓸ "The 4th Story element is the Hero (you, the Client) asks the Guide (Me, the Coach) to help Create a Plan. The Hero trusts a Guide who has a Plan."
⓹ "The 5th Story element is the Hero (you, the Client) receives a Challenge from the Guide (Me, the Coach) to push the Hero to Take Action. The Hero is often stuck in neutral not knowing the best course of action. The Challenge from the Guide pushes the Hero into Action."
⓺ "The 6th Story element is the Hero (You, the Client) gets help from the Guide (Me, the Coach) to Avoid Failure. In stories, the Hero will be faced with Death at every turn, but the wisdom the Guide shares with the Hero enables the Hero to avoid Death."
⓻ "The 7th Story element is the Hero (You, the Client) gets help from the Guide (Me, the Coach) to find a Path to Success. In stories, the Hero in the end always achieves their goal – saving the boy or girl – or in your case, having a more successful company."
I have always shared my belief that with every engagement, each person should strive to give the other person a "Great Story to Share", otherwise, you are wasting each other's time. I can promise you that this will be my goal should you, the Hero, choose me to be your Guide for your Story.
We offer a variety of Services to "Help You Build Your Business Stronger!"
Please Keep Reading or Click on the text to jump to the section of interest.
With our Executive Coaching options, you will meet 1-on-1 with our CEO, Kenneth Young.
Kenneth will listen to you explain your challenges and work with you to make an actionable plan to attack and solve them.
He is a 25+ year Experienced Executive and Serial Entrepreneur.
Kenneth's companies have successfully raised over $100M USD.
He has one IPO (Initial Public Offering – Cypress Semiconductor 👈) and several exits to acquiring companies under his belt.
Kenneth serves as an Alumni Mentor at GaTech 👈 where he received his Bachelor of Electrical Engineering degree.
He serves as a Mentor and Investor Pitch Coach at the Tampa Bay WaVE 👈, Tampa Florida High-Technology Accelerator.
Kenneth has the Executive Experience to Help you Solve the Challenges you Face in most Business Situations.
Mastermind Group – What are They?
A Mastermind is a group of 4-6 individuals who regularly discuss their challenges and identify potential solutions to their individual challenges. 
Each Mastermind is led by a chairperson who will moderate the group at their meetings to ensure each member gets time to raise their key challenge and solicit ideas from the other mastermind members and the chairperson.
Each Mastermind member is surrounded by a cross-section of members with both lesser and greater business experience so that all members benefit from the other members' challenges and experience.
From time-to-time, an expert in a specific field (Finance, HR, Sales, Social Media, etcetera) may be brought into a mastermind meeting to answer questions in which most members would benefit.
Mastermind groups meet once each month for two-hours from 11:00 am to 1:00 pm ET. 
Mastermind group attendance can be in-person or via Zoom. Every member is capable of seeing, hearing, and interacting with all members.
Mastermind members can also combine 1-on-1 Coaching with Mastermind group participation and receive a discount. 
The Next Mastermind Group (4-6 Members + Chair) is Forming Now!
Mastermind Pricing:
1-Month Mastermind (Trial): $499.00 January Special: $299.00 —

SAVE $200!

3-Month Mastermind: $999.00 — Save ~$500
12-Month Mastermind: $2999.00 —

Save ~$3000
** Note: Full Credit for 1-Month and 3-Month Mastermind Plans given towards 12-Month Mastermind.
** 50% Coaching rate discount for active Mastermind members who add coaching to their Mastermind membership.
Ready to learn from those who have faced and are facing identical or similar challenges so you can learn faster and make fewer miss-steps?
Contact me now to be considered for acceptance into the next Mastermind Group. Tap the button below to get started. I'll contact you for a time to chat by phone, and we'll jointly decide if you would benefit from our next Mastermind Group. No obligation call. 
Executive Training – Did you take that course in college? I doubt it. Even MBA college students don't necessarily get hands-on training on 'How-To' education on day-to-day business life situations like:
 Delegation
 Effective Communication
 Setting Goals & Tasks for Direct Reports
 Talent Management
 Change Management
 Forward Thinking
 Confidence Without Arrogance
 Honesty and Integrity
 Be a Leader, not a Micro-Manager
 Management is Not the same as Leadership
 Ability to Listen and Debate
 … and More…
You and your management team will participate in four-hour or all-day sessions learning these critical management skills before its too late! You'll leave with a new way of thinking about how to effectively manage, build and keep strong teams. 
EXECUTIVE TRAINING​ - FAQ's
Raising Venture Capital – Building Investor Pitch Decks – SEO – Digital Marketing – and More! Kenneth offers his speaking services to audiences of 10+ at your offices or a location of your choice. 
Kenneth offers talks on a variety of Startup, Business & Website/IT Topics including:
Fund-raising for Startups

Build a Successful Investor Pitch Deck
Find the Right Investor for Your Startup
Monthly Newsletter – Why Having One is So Important
Business Websites – Get Your Website Built Right!
Personal Brand Website – Get the Job You Want – and Deserve!
SEO (Search Engine Optimization) for (less-Technical) Leaders
Social Media (Digital) Marketing for (less-Technical) Leaders
Social Media (Digital) Marketing – Step-by-Step Guide for Marketers
… and More Topics…
My prices are far lower than many expect. I also offer space at the Centre Club of Tampa (Florida) for local businesses to meet for a 90-Minute "Lunch-n-Learn" talks.
Have an Idea for an important topic? Reach Out to me and let's talk. 
At Idea To Growth LLC, we are all about EDUCATING our Clients!
We provide Books, Podcasts, Videos and Templates that you learn more easily and get your job done faster.
Keep reading to learn about both our Links to FREE and other great Educational Products!
If you like to learn through books, you can buy my books in your favorite medium – Paperback, eBook, Audio Book, and Book on CD – and learn about how to best tackle a variety of business issues.
My business career has been all about starting, building, launching, growing and then selling high-tech companies. I am constantly bombarded with almost every imaginable question on startups. I can't answer them all with personal replies, do I decided to write a series of books on the business of startups. 
The first set of writings is a 3-book series I titled "The Successful Startup Entrepreneur Series".
My 1st book in this series is: "ANGEL INVESTORS TO VENTURE CAPITAL – 10 SLIDES TO STARTUP FUNDING SUCCESS (ENTREPRENEURS GUIDE TO RAISING VENTURE CAPITAL)". This book was published January 22, 2019 and is available in Paperback and eBook on Amazon.
I also have a companion set of PowerPoint – Google Sheets – Apple Keynote – Templates that go with my book "ANGEL INVESTORS TO VENTURE CAPITAL – 10 SLIDES TO STARTUP FUNDING SUCCESS (ENTREPRENEURS GUIDE TO RAISING VENTURE CAPITAL)" that will save you 100+ hours in building your Investor Presentation like I describe in the book. Click This Link to learn more!
My 2nd book in this series "INVESTOR DUE DILIGENCE" – WHAT INVESTORS NEED TO KNOW TO FUND YOUR STARTUP" is expected to be published in late 2019.
My 3rd book in this series "THE 4-STAGES OF EVERY SUCCESSFUL STARTUP AND HOW TO NAVIGATE THEM SUCCESSFULLY". In this series, I tackle every issue that arises in building your startup through the 4-Stages that every successful business will travel – Idea Stage – Build Stage – Launch Stage – Growth Stage – and teach you the lessons of what to do – and not do – as you navigate each business stage.
Investor Pitch Deck Templates
We also have a companion set of PowerPoint – Google Slides – Apple Keynote – Templates that go with my book "ANGEL INVESTORS TO VENTURE CAPITAL – 10 SLIDES TO STARTUP FUNDING SUCCESS – ENTREPRENEURS GUIDE TO RAISING VENTURE CAPITAL" that will save you 100+ hours in building your Investor Presentation like I describe in the book. 
This is the most powerful Investor Pitch Deck on the Market. This was built to match the Pitch Decks that our CEO used to successfully raise over $75M USD for his last company. Click the button below the Traction Slide Template Example below to learn more about this power tool you will want for your Startup fundraising.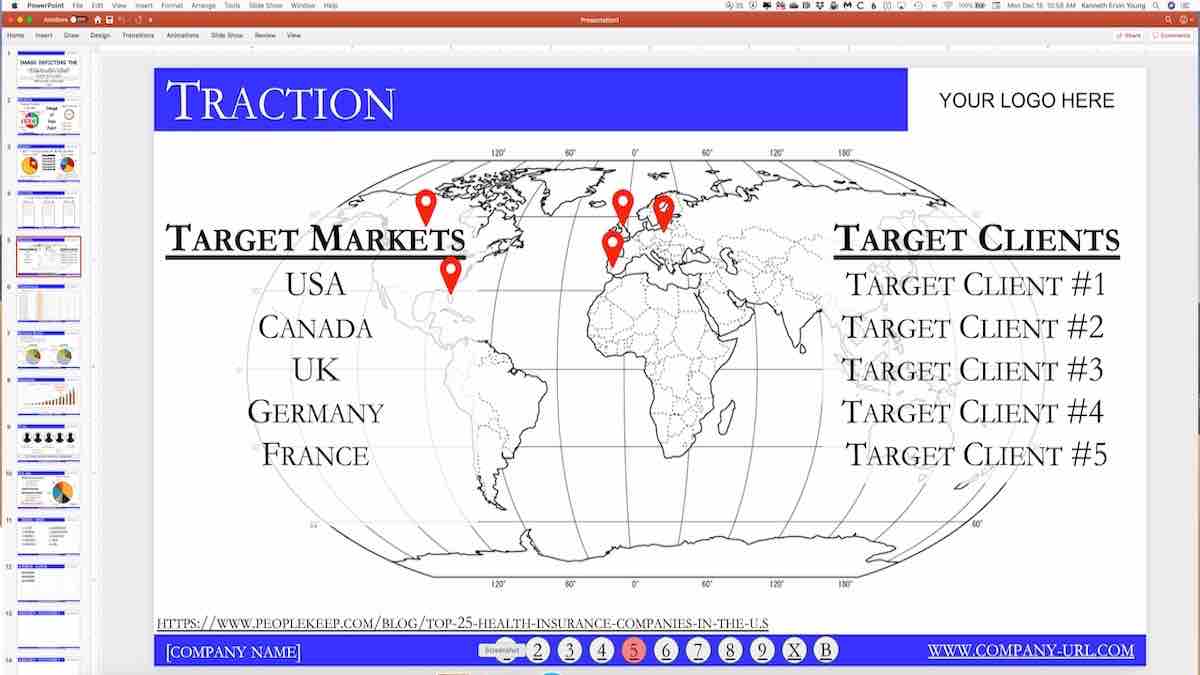 I also have a series of eBook Guides exclusively for my Club Members via my website. Joining my Book Club is 100% Free as are most of the eBooks. More details are coming soon!

Kenneth Ervin Young owns many businesses, including this one, Idea To Growth LLC (www.IdeaToGrowth.com), the parent company.
Originally I offered many services under the umbrella of Idea To Growth LLC. Services included not only the Executive Coaching, Training, Speaking and Executive Educational products, but also other critical services that businesses need.
These other services included:
Website Design, Development, Maintenance & Hosting
Website (Page Open) Speedup Service
Website Repair Service (Have I Been Hacked?)
Social Media Services
As each of these businesses grew, as they should, they needed additional resources. 
Also, having many somewhat related, but different businesses under a single company name, potential new clients found confusing. 
So, I split them up into separate "child" companies:
Each company is owned and managed by me to my highest standards. I stand 100% behind their products, services and customer satisfaction. If you're 100% satisfied, or not happy, I want to hear from you.
Kenneth Ervin Young, CEO
I also work with a select number of other Partner Firms that compliment my Services and Products. These are firms that are known for their Integrity and High Work-Product Quality.
CONFIDENTIALITY is our motto. Some executives seeking Executive Coaching do not want their names or company names shared openly, while others recognize that sharing their acknowledgment that no executive can know everything, and seeking knowledge from other experienced executives is a strength. 
Due to this disparity in beliefs, we have chosen not to share company names, logos, or the individual names of our clients.
However, you can see a few of our clients who have chosen to share their experience with me, Kenneth Ervin Young, in the Testimonial section below.

Please check out our new and improved website. https://lnkd.in/eVNAXqm. I want to thank Kenneth Ervin Young with IdeaToGrowth.com for making it possible. He has been truly amazing to work with and has helped make our site even better. Full of information, blogs and go to books to buy. BizzeeBeeMarketing.com JohnStricklandInsurance.com
"Ken is a very smart and knowledgeable businessman and has managed large operations. At Alliance Semiconductor as GM of SRAM division, he helped create many leading-edge products and helped grow the revenue from a few million dollars to 50 plus million. I had the privilege of working with him and his team and learned a lot from his constructive criticism and I am thankful for all the opportunities he provided. I also worked with Ken at T-RAM where he was the CEO and I reported directly to him. I enjoy working with Ken and would gladly do so again and would be glad to recommend him."
"Ken is a positive team builder. Company meetings always had an upbeat, positive atmosphere due to Ken's leadership. During my time at T-Ram, I had the chance to work with Ken closely on a project, and he always took the time to explain what he wanted so that the work would be of high quality. I enjoyed working with him and for him."
"As the part-time Chief Financial Officer for T-RAM, I reported to the Board of the Company and to Ken Young. I found Ken to be a strong leader with a vision on how to build a company. He possessed the knowledge to perform his job, and the ability to know what he needed assistance with - and ask for it."
"Ken is a great manager. He is hands-on technically and his business acumen is commendable. His "outside the box" thinking brings successful solutions to complex problems. I am amazed at how Ken handles pressure and still manages to deliver. I learned a lot from Ken during my work with him and highly recommend Ken. He is an asset to any organization."

Hello! My name is Kenneth Ervin Young. Thank you for visiting IdeaToGrowth.com and considering us in your search for a solution to your business and life challenges.
I am what many would call a "Serial Entrepreneur". I love to discover a great "IDEA", then "BUILD" a prototype, then "LAUNCH" it to my clients so that I can "GROW(th)" into a Strong Company – then I sell the company – then repeat the "IDEA TO GROWTH" process.
The Four Stages of every Successful Business: IDEA – BUILD – LAUNCH – GROWTH – It's why I named my company IDEA TO GROWTH LLC.
By training, I am an Electrical Engineer. I earned my degree from the Georgia Institute of Technology.
In this business, I focus on helping Entrepreneurs and SMB's learn from my 30+ years of building, running & selling Technology companies in Silicon Valley.
I'm not going to stop you from making mistakes. It's been proven time and time again, we learn more from our mistakes than from our successes.
I do promise to try to help you avoid stepping on the land mines that will kill your company.
I will also help you feel more confident in the decisions that you make that are the important milestones in your business life.
I will help you make the right decisions on the choice of the tools that will help you succeed.
If I sound like a Coach/Mentor that can provide you what you are looking for, then we may have a match – Contact Me.
First and foremost, I am here to educate you! That is why our tagline is "Helping You Build Your Business Stronger!" 
This section contains links to recommended Books, Videos and Podcasts. 
With our Educational Materials, you can choose your best method of learning – Reading – Watching – Listening. 
** I may earn a very small commission on some of the products I recommend. This costs you nothing and the change goes towards helping us bring you our great support. Thank you for your support!
Titles https://brandongaille.com/catchy-blog-titles/ 1. Use a number at beginning of blog title – 101 Ways….+36% 2. Odd numbered title better than even number… +20% 3. Give
Read More »
# of Unique Monthly Visitors # of Leads Generated by Email Opt-ins # of People who have signed up for service via a free demo
Read More »
The Next Mastermind Group is Forming Now!
1-Month Mastermind (Trial): $499.00
January Special:
$299.00 — SAVE $200!
First Zoom Meeting 11:00am January 28th