PAY PER CLICK SERVICE
Pay Per Click Service (PPC Service) is a method of internet marketing in which advertisers pay a fee each time someone clicks on an ad. PPC is a way of "buying visits" to your website rather than attempting to earn those visits "organically."

Search Engine Advertising is one of the most popular forms ofPay Per Click Service (PPC Service). It allows advertisers to bid for ad placement in a search engine's sponsored links when someone searches on a keyword related to their business offering.

For example, let's bid on the keyword "Outsourced General Counsel" for the firm Magis Law Firm. You can see our ad shows up in the top spot on Google results.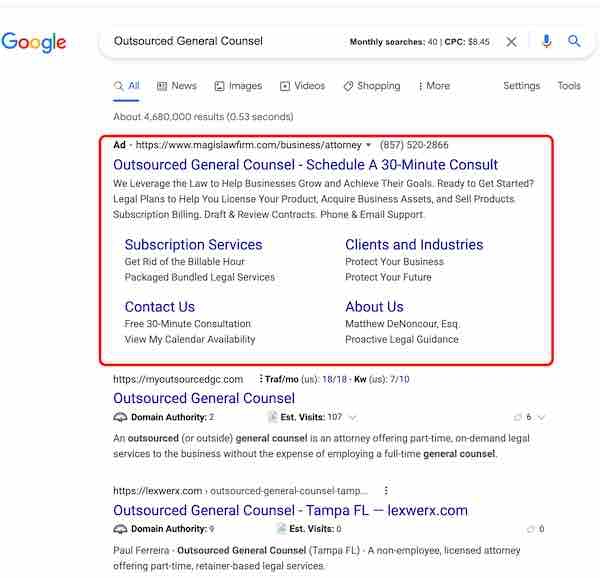 Every time a visitor clicks our ad, they redirect to our website. We then have to pay the search engine a small fee.

When your PPC is working correctly, the fee is trivial because the visit is worth more than what you pay for it.

In this example, we pay $8.45 for a click. But the click results in an $800 sale. We've made a hefty profit. Who doesn't want to do this all day?
HOW IS COST-PER-CLICK (CPC) CALCULATED?
One calculates the average cost-per-click (avg. CPC) by dividing your clicks' total cost by the total number of clicks.
WHAT IS THE AVERAGE CPC?
The Average Cost Per Click (CPC) in Google Ads is between $1 and $2 on the Search Network. The average CPC on the Display Network is under $1. The most expensive keywords in Google Ads and Bing Ads cost $50 or more per click.
PRICES
We offer our Pay-Per-Click (PPC) Service starting at a very low $199.00, plus the Monthly PPC spend with PPC networks.
Tap the button below, and Let's Chat about how our services can start working for you today!
---
HAVE QUESTIONS? READY TO ORDER?
There are many more questions you likely have about solving your business challenges.

Let's Set Up a 100% FREE, NO OBLIGATION Zoom Meeting or Phone Call to learn more about each other.
---
RELATED DIGITAL MARKETING SERVICES