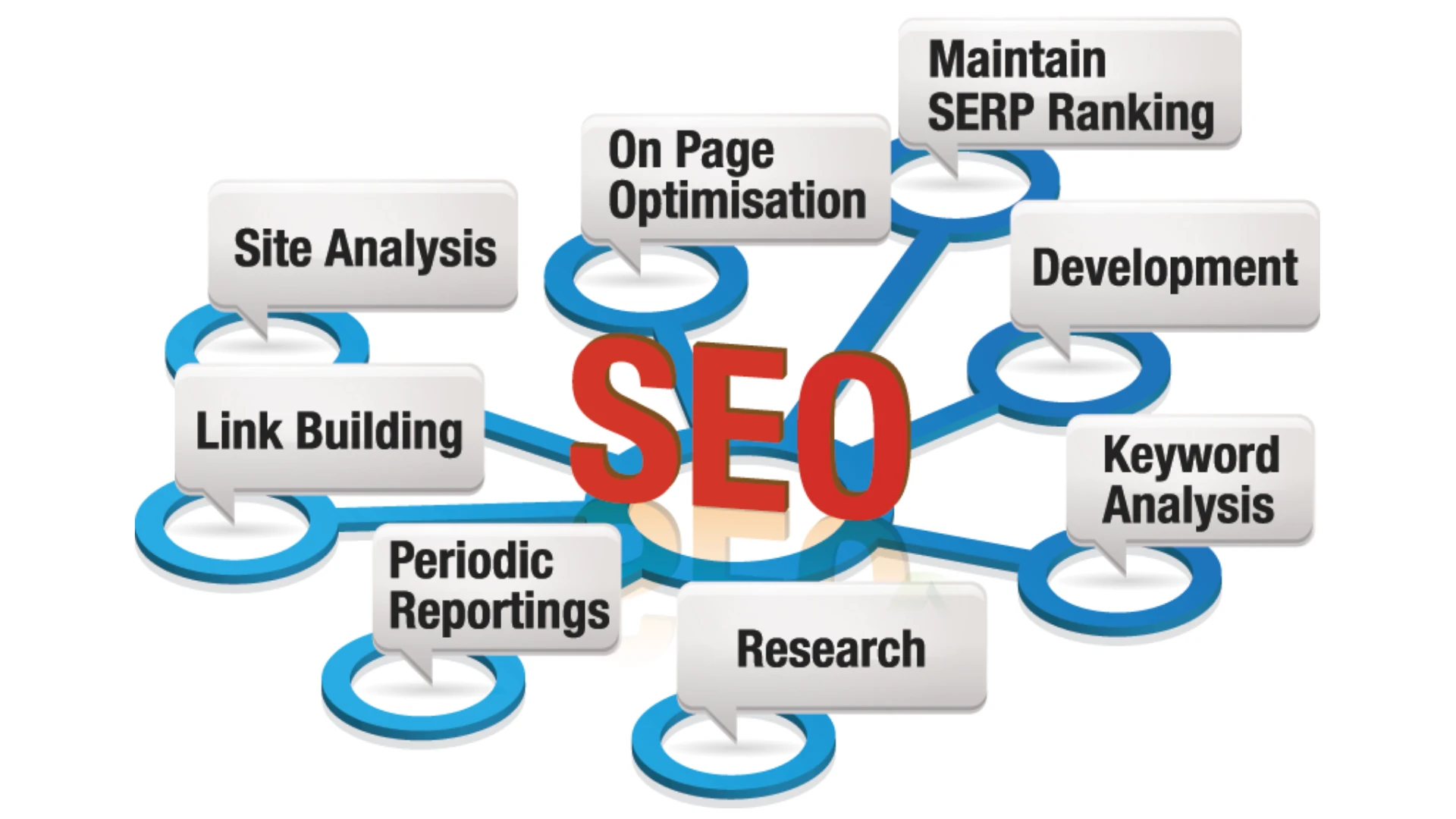 SEO SERVICES
Is Your Website NOT Delivering Enough Visitors to GROW YOUR BUSINESS?
IDEA TO GROWTH – HELPING YOU GROW YOUR BUSINESS STRONGER!
SEO SERVICES
We are proud to offer our clients a suite of affordably-priced SEO Services designed for Helping You GROW Your Business Stronger!

SEO is short for Search Engine Optimization.

Search Engine Optimization is a technical way of saying that each of your web pages follows a set of rules designed to give your visitors a pleasant and helpful experience.

WHY IS SEO IMPORTANT TO MY BUSINESS SUCCESS?
People are busy. They don't have time to wade through gobs of useless marketing information. The website visitors who are ready to buy your product or service are "Hunters." The visitors who are not prepared to purchase but seek "educational information" before making a purchase are "Gatherers." This concept goes back to the days when humans lived in caves. The work of survival was broken up between the Hunters and the Gathers.

As a business, you need to satisfy both Hunters and Gathers.

Hunters want to:
Gatherers want to – Know the same things!

Gathers are "gathering the information" they need to make a purchase decision in the future quickly. If your website satisfies the above needs, the Gatherers will return to your business when they transform into a "Hunter."

At a business owner's level, how do you accomplish these things?
WHAT ARE THE 3 TYPES OF SEO SERVICES THAT I NEED FOR A SUCCESFUL OUTCOME?
There are 3 fundamental types of SEO that your business needs to excel at:
1. ON-PAGE SEO
On-Page SEO relates to the "visual and textual" content of your website.

On-Page SEO includes strategies to optimize each individual page on a website. These factors help search engines understand the topic of the content and see that the website is a valuable source that people would want to find.

On-Page SEO includes:
How Does IdeaToGrowth Help You With On-Page SEO?
First, we identify the keywords for each page that we should target.

Second, we suggest blog article ideas. These are based on keyword research, what people are looking for in your industry, what searches are trending, and other such data. You can take these blog suggestions and write them yourself. Or you can get the IdeaToGrowth Content Team to write them for you.

Third, we also make suggestions for the copy on Product Pages and Category Pages, the meta descriptions, page titles, and more. Then we can re-write the content and update the images of the page to maximize the Search Engine Ranking potential.
2. TECHNICAL SEO
Technical SEO relates to the "non-content" aspects of your website.

Technical SEO includes strategies to improve a site's backend structure and foundation. Technical SEO improves a website's readability (making it easy for search engines to crawl and better understand the site). It provides a good user experience, helping search engines see that the site is high quality. A good user experience is also important for visitors and can affect overall traffic and engagement rates.

Technical SEO includes:
How Does IdeaGrowth Help You With Technical SEO?
First, we check your website speed using a variety of tools including Google Page Speed Insights. If your website pages take more than 3-seconds to fully open on a phone connecting at 3G speeds (typical inside any building or home on a cellular connection, outside in a city, or rural areas), visitors will "bounce" (click and go to a competitors website) to another website that offers faster page open speeds.

Second, we check every page to make sure it looks great on phones, tablets, and laptops. That is what "mobile-friendliness" is all about.

Third, we make sure all the pages that you want the search engines (Google, Bing, others) to know about are "indexable" and being "crawled" by the search engines regularly.

Fourth, we report on broken links, site architecture, structured data, and XML site mapping, to show you how you can make your site look better to Google's bots, and to feel better for people when they land on your page.

Fifth, we make sure your website has the right security settings to protect you and your visitors from hackers. This includes a active SSL
3. OFF-PAGE SEO
Off-Page SEO relates to strengthening the influence and relationship your website has with other websites.

Off-Page SEO includes It includes strategies to build a website's reputation and authority. These factors help search engines see that a website is an ideal search result because it is from a reputable, reliable, trusted source.

Most Off-Page SEO relates to acquiring high–quality backlinks. A large volume of links pointing to your website from relevant, authoritative sites shows search engines that your site is valuable and established. You can acquire these trust signals via a variety of link-building and guest posting tactics.

Off-Page SEO includes:
How Does IdeaGrowth Help You With Off-Page SEO?
First, we help you with the creation of a backlink strategy. We get your content out onto various websites and in the eyes and minds of other authoritative websites and encourage them to link back to you, increasing your Page Authority.

Our SEO experts use best-in-class SEO tools to find websites perfect to link back to your website, only involving websites with a high Page Authority (PA). We make sure you're getting helpful backlinks for your investment.
USE ALL 3 TYPES OF SEO TO IMPROVE YOUR MARKETING STRATEGY
To create SEO that leads to Lead Generating Results, you can't focus on just one of the three ranking factors. You need to use all 3 types of SEO in conjunction with each other to give your website the best chance at showing up ON PAGE 1 in search.

Idea To Growth does this for you in each of our SEO Services. Please choose the one that best fits your business needs and budget.
Google Search Algorithm Ranking Factors
Google is known to look at over 200 factors when it comes to Ranking Your Pages when someone does a Google Search.

We look at the industry expert First Page Sage who began conducting a continuous study of Google's algorithm beginning around 2010 and for the last several years has published its results publicly. Below is their latest data:
The biggest weighting factors are the first five, making up 82% of the total SERP Ranking factor. However, the remaining 18% can often be the tie-breaking difference in whether you rank above, or below, one of your competitors. In other words, you can't ignore any of the ranking factors if you want to get onto and stay on page 1 of Google Search.
WEBSITE SEO SERVICE
Did you know that Website SEO is the process of Improving the Quality and Quantity of Website Traffic to your Website or Web Page from Search Engines?

Did you know that doing Website Search Engine Optimization for each of your website pages is CRITICAL for Google Ranking your Website?

Most people do not know this. Website Search Engine Optimization is one of the more time-consuming actions taken when building a website. Taking each page's content, determining the best primary and long-tail keywords, then rewriting the page is time-consuming. 

Website Search Engine Optimization is the most critical part of enabling your website pages to get to Page 1 Google Search.
WEBSITE SEARCH ENGINE OPTIMIZATION SERVICE
Search Engine Optimization, or SEO for short, is likely a word you hear a lot.

SEO writing is a complex skill that many talk about, but few truly understand how to implement it.

Why? Because doing SEO correctly a lot of research time, expensive software tool licenses, and great word-smithing.

The image shows part of our process flow. SEO starts with Identifying the problem that needs solving.

Next, there are potentially hours of Keyword Research, including Competitor research.

Finally, you get to start Content Writing.

Your written content then has to be adapted to all the social media and other platforms where you share your solution.

Finally, you launch your written content and measure the SEO results for weeks. Depending on the SEO results, you may "tweak" the written content to try to improve the "conversion rate."
INCREASING YOUR PAGE RANKING
A variety of methods can increase the prominence of a webpage within the search results.
BUT THERE IS SO MUCH MORE!
There is a great SEO tool made by the company MOZ. They also have outlined Seven Key Steps to Successful SEO, which we follow in the order given:
STEP 1: WEBSITE AUDIT
We start with our detailed Website Audit.

We'll start with your homepage and identify those SEO issues that are currently holding back your website from ranking on page 1 due to On-Page SEO and Technical SEO issues.

We'll discuss these SEO issues with you so you understand these limitations and we'll suggest solutions that you can do, or we can do for you.

Tap to see our Website SEO Audit Service page to learn more.
STEP 2: KEYWORD RESEARCH
Keywords are the "Most Common Words and Phrases People Use when Searching for Answers and Solutions to their Questions and Problems".

Deciding on keywords shapes the number of pages that need to be created or optimized. For a given webpage, you don't want to choose just one keyword.

The smart decision is to have a list of related keywords that help fill out the topic of your page.

When Google evaluates pages, it looks for a list of related keywords as a clue as to how valuable your page is likely to be to a visitor.

We'll show you the list of top keywords for "Your Business" and "Market Segment", and suggest the top 10, 20, 50, or more keywords you should target.
STEP 3: ON-PAGE SEO
On-Page SEO is the "Written and Image Content that you 'See' on any Webpage".

Examples of On-Page SEO include:
We optimize the selected pages for On-Page SEO to help your webpage stand out from your competitors!
STEP 4: TECHNICAL SEO
Technical SEO is the "SEO Work NOT Content that you 'See' on any Webpage that Help Search Engines Better Understand How Your Page Helps a Visitor".

Examples of Technical SEO include:
We Optimize the selected pages for Technical SEO to help your webpage stand out from your competitors!
STEP 5: OFF-PAGE SEO
OFF-PAGE SEO is the "SEO Work NOT On-Page or Technical Directed towards Driving Visitors to Your Webpage".

Examples of Off-Page SEO include:
We Optimize the selected pages for Off-Page SEO to help your webpage stand out from your competitors!
What pages should get our SEO Services? Great Question!
The most important pages are:

(1) Your Homepage
(2) Your Products and Services pages
(3) Your Cornerstone Blog Posts.

These are the pages that you want to show up on Page 1 of a keyword search related to your business and products and services.

Pages such as Privacy Policy, Disclaimer, Terms of Service, Checkout pages, and the like, should generally NOT get one of our SEO Services, and should generally be set as "No-Follow" pages so that Google doesn't "crawl" them.
I WANT MORE CUSTOMERS! HOW DO I GET STARTED?
We have 3 GROW YOUR BUSINESS STRONGER SEO SERVICES that fit most clients shown below. Choose one of our SEO Services that fit your needs and we'll get started Sending Your Business MORE Customer Leads Today!
SEO SERVICES
More Reasons to Start Using our SEO Services Today!
PRICES
Our SEO SERVICES Starts at a Very Low $150.
SEO SERVICES
BASIC
ON-PAGE + TECHNICALS SEO
ONE-TIME PURCHASE
30-DAY SUPPORT
$150 – 1-PAGE
SEO SERVICES
STANDARD
ON-PAGE + TECHNICALS SEO
ONE-TIME PURCHASE
30-DAY SUPPORT
$375 – 3-PAGES
SEO SERVICES
PREMIUM
ON-PAGE + TECHNICALS SEO
ONE-TIME PURCHASE
30-DAY SUPPORT
$575 – 5-PAGES
QUESTIONS? WANT A CUSTOM QUOTE?
There are many more questions you likely have about how I can help you solve your business challenges.

Set Up a 100% FREE, NO OBLIGATION Zoom Chat, Phone Call, or Email me so you can learn how I can Help.