01 – PITCH DECK COVER SLIDE – 10 SLIDES TO VC FUNDING SUCCESS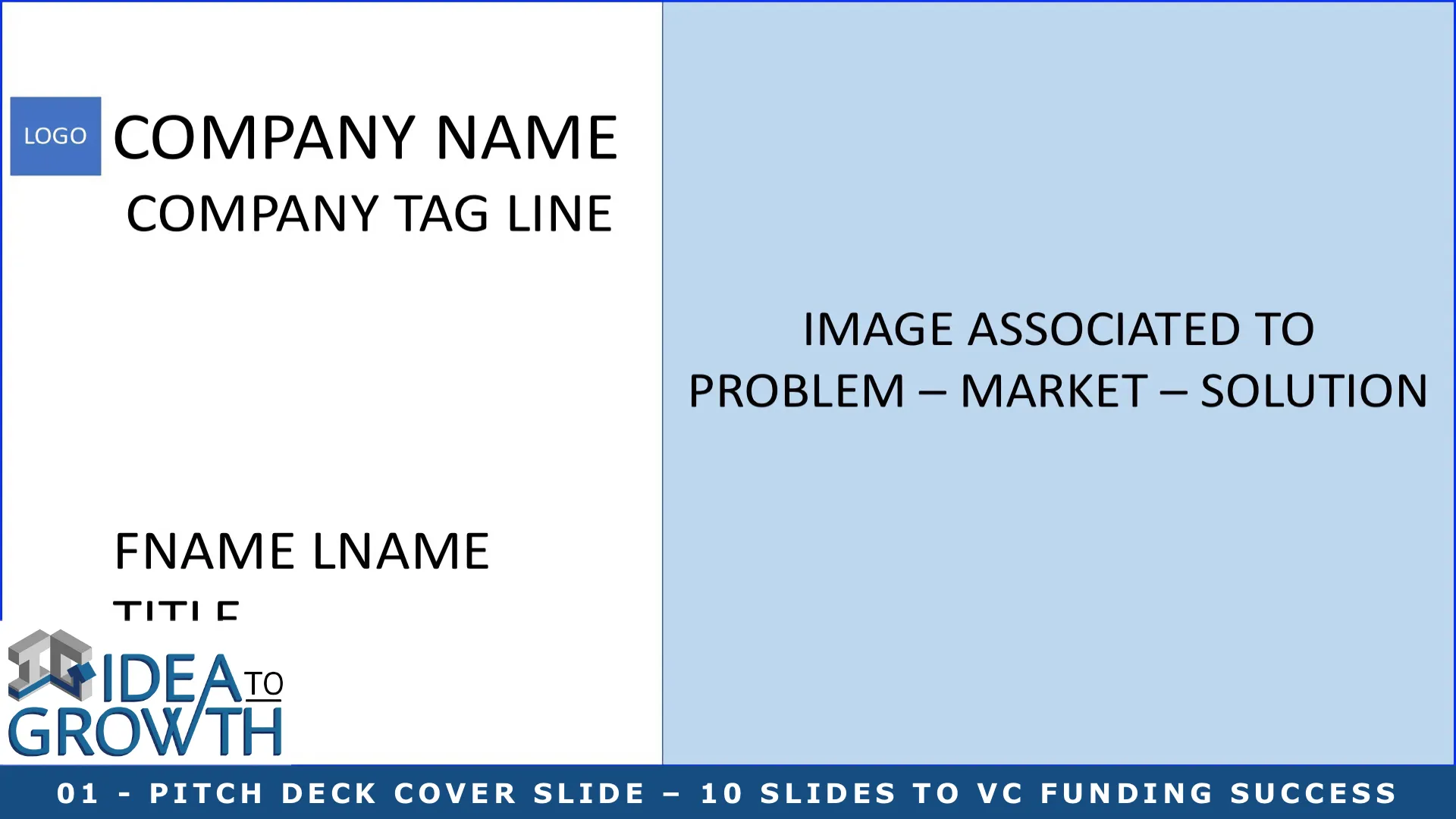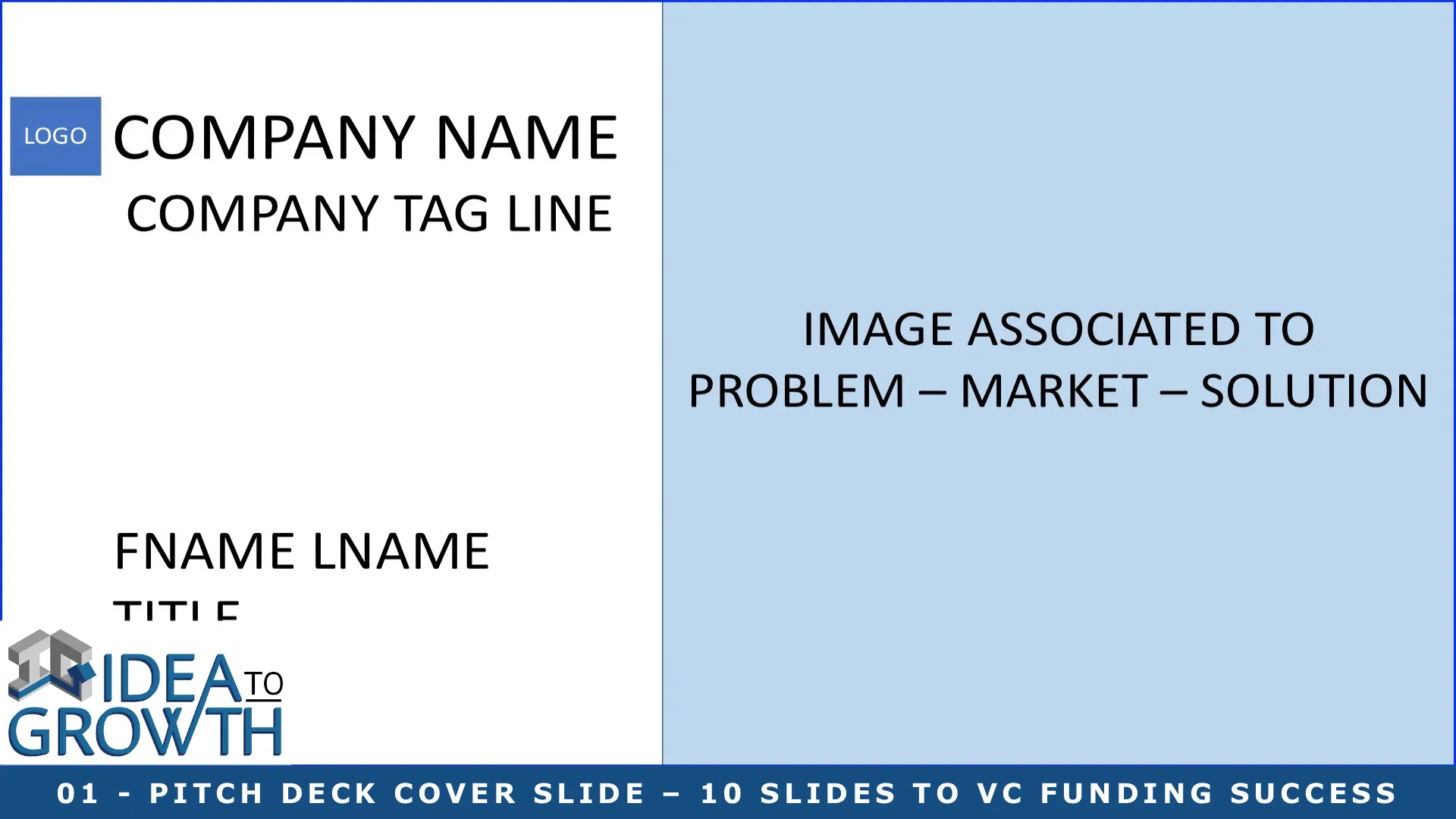 1: Pitch Deck Cover Slide – 10 Slides to VC Funding Success
❏ Today in Part 1 of my series on 10 Slides to VC Funding Success, I'll speak on 1: Pitch Deck Cover Slide – 10 Slides to VC Funding Success (Link).
The Cover Slide is the first page of every successful VC Pitch Deck. It is often the most overlooked slide concerning its importance. However, it has the same importance value as to how you appear to any person you first meet.
Think about how your first impression of a person you form in your mind before you ever hear the first word they have to say. The Cover Slide for your Investor Pitch Deck has the same impact.
What is the Cover Slide? You will learn in this article the answer to this question and what is essential to show on your Pitch Deck Cover Slide.
My History:
One of my responsibilities as an Executive Coach is helping company founders with the creation of their Investor Pitch Deck. Throughout my career, I have created and reviewed many Investor Pitch Decks. Some of our team's Investor Pitch decks, especially early in my startup career, upon reflection, were "horrible."
Sometimes our teams were successful in raising monies from investors. Many times they were not.
I never thought that the content and presentation style of the investor pitch deck might be hurting us. Boy, was I ever wrong! By working with many investors, I've learned what they want in an Investor Pitch Deck. In my last company, we raised $87M over rounds A, B, and C.
So in this series and an upcoming book, I look to share my hard-learned lessons from 20+ years of being an Entrepreneur.
The Investor Pitch Deck Series:
In this series you will learn the order and the importance of each of the following Pitch Deck Slides:
This 10-part series covers the ideal content, order, and flow of the ten Investor Pitch Deck Slides. You'll have learned how to craft your story into a successful ten-page Investor Pitch Deck that can get you funded!
When an Entrepreneur is putting together their Investor Pitch Deck, they usually assemble a hoard of information. Sadly, often what they construct is a "book" that is 20, 30, even as much as 80 pages in length! Most of us humans have a very short attention span. Even ad networks know that most ads longer than 30 seconds in length don't work with consumers. For Investors, the successful length of an Investor Pitch Deck is about ten pages and 7-15 minutes in presentation length.
Pitch Deck Cover Slide – Why Is It Important?
In 1: Pitch Deck Cover Slide – 10 Slides to VC Funding Success (Link), I'll speak about the Cover slide and its importance. The Cover Slide, the first page of every presentation, is often the most overlooked slide concerning its significance. However, it has the same importance value as to how you appear to any person you first meet. Your attire, stride, smile, and grooming all make for that all important "first impression." Your Cover Slide is of the same import as the cover and title of any book. The image and title set the expectations of what a reader will find inside. Your Cover slide does the same thing. Treat it with the same level of importance.
In many cases, the cover slide will be visible for the most significant period in your presentation. This one slide will either get your audience immediately interested in what you are about to share. Or, they will be reaching for their phone to entertain themselves. Let's dig in and talk about how to make sure the former happens 100% of the time.
Pitch Deck Cover Slide – Content
Most Pitch Deck Cover Slides I see from entrepreneurs are incredibly generic. Usually, the Cover Slide is merely black text on a white or blue background. Excuse me; I just fell asleep from the boring introduction!
There are 5 Rules to follow for an excellent Cover Slide.
Your Pitch Deck Cover Slide should convey to your audience a firm idea of what you are going to be speaking. For example, let's say your product is a mobile-focused advertising service. You might convey this with an image that includes some smiling, happy millennials looking at their phones. With no text at all, you have given your audience has a clue about your presentation topic.
The text you should add to this killer image is your company name, the presenter's name, role, and email.
You should also add your tagline below your company name to identify the purpose of your business.
I do not recommend including the date on the Cover Slide. Forget to update when you suddenly have an opportunity to present to an investor and it looks bad.
I do not recommend including the title "Investor Presentation." Your audience knows who it is. What if you are in front of a potential customer and the Investor Presentation is all that you have to show? Leave out the final slide, the Ask Slide, and you have a simple presentation you can share with almost anyone in a pinch.
See the image associated with this article to see a great example Cover slide that one of my coaching clients uses My Area Network.
Pitch Deck Cover Slide – What's Your Story?
So, what do you say while your Pitch Deck Cover Slide is visible? Just like on a first date, these opening words will often set the tone for the rest of the engagement. Keep it simple! State your name, your working title, and your company name. Remember to thank your audience for taking their valuable time today to meet with you. Allow me to give one example.
"Good (morning, afternoon, evening)! Thank you for agreeing to share your valuable time with me today. My name is (Your Full Name). I'm the Founder and CEO of (Company). Today, I'm going to share the story behind (Company) and our plan to bring our incredible solution to the market."
Remember what I said earlier. The first words out of your mouth, and your delivery and energy level, will set the tone for the presentation. You MUST be smiling. Your body and hands should be animated. Your vocal sound should be highly audible to the people furthest from you. It should reek of high energy and a level of excitement. You are be setting the expectation for your audience. The 15-20 seconds delivery allows you to calm any jitters and get you "in the zone" for flawless delivery.
When you follow this guide, your Cover slide will be a great start to a successful presentation!
Presentation: We Can Read or Listen – Not Both!
Most of us humans can either "Read" or "Listen," but cannot do both at the same time. Your Pitch Deck slide presentation exists to support "the story" you are going to be telling your audience. Does your Investor Pitch Deck has a lot of words, charts with numbers, or distracting images? Then your audience is going to switch their brain into "reading mode" and out of "listening mode." As soon as that happens, you've lost your audience and will struggle to get them back to listening to YOU! To avoid this, use mostly images and as few words as possible, usually in bullet form. So absolutely, positively NO SENTENCES!
Conclusion
So, I suspect many of you were surprised concerning the importance of the Pitch Deck Cover Slide. If you're starting you create your first investor presentation, congratulations! You're going to be starting on the right foot if you follow my recommendations above. Go back and look at your Cover slide and apply what you've learned above. If possible, you should wait to read the remainder of the series before you present again. I can almost promise you a better reaction from your audience.
100% FREE GOOGLE PAGE RANK ANALYSIS
I want to prove my value to "Helping You Grow Your Business Stronger!" by offering a 100% Free Google SEO Pagerank Analysis. Share your homepage URL (Domain Name) and the email I should send your 100% FREE Report and within a day or two I'll point out the Top Items on your business website that are Costing You Customers.
QUESTIONS?
If you're ready for a F2F Zoom chat, or want to ask a quick question by email, click the appropriate link below.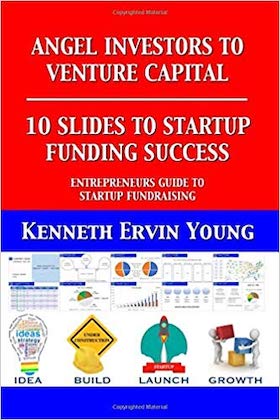 SALES ARE OPEN FOR MY NEW BOOK!
"Angel Investors to Venture Capital –
10 Slides to Startup Funding Success –
Entrepreneurs Guide to Startup Fundraising"
Learn the 10 slides you need to create in order to have a great shot at raising venture capital from venture capitalists!

I'll walk you, slide by slide, how to create content that will attract top venture capitalists to fund your idea, just like I raised over $100M dollars in Silicon Valley for my startups.

I cover every slide in great detail, including not just the words and content, but even font colors, fonts, font sizes, images – all the details to give you the best shot possible!