BUSINESS WEBSITE – 31 REASONS TO USE WORDPRESS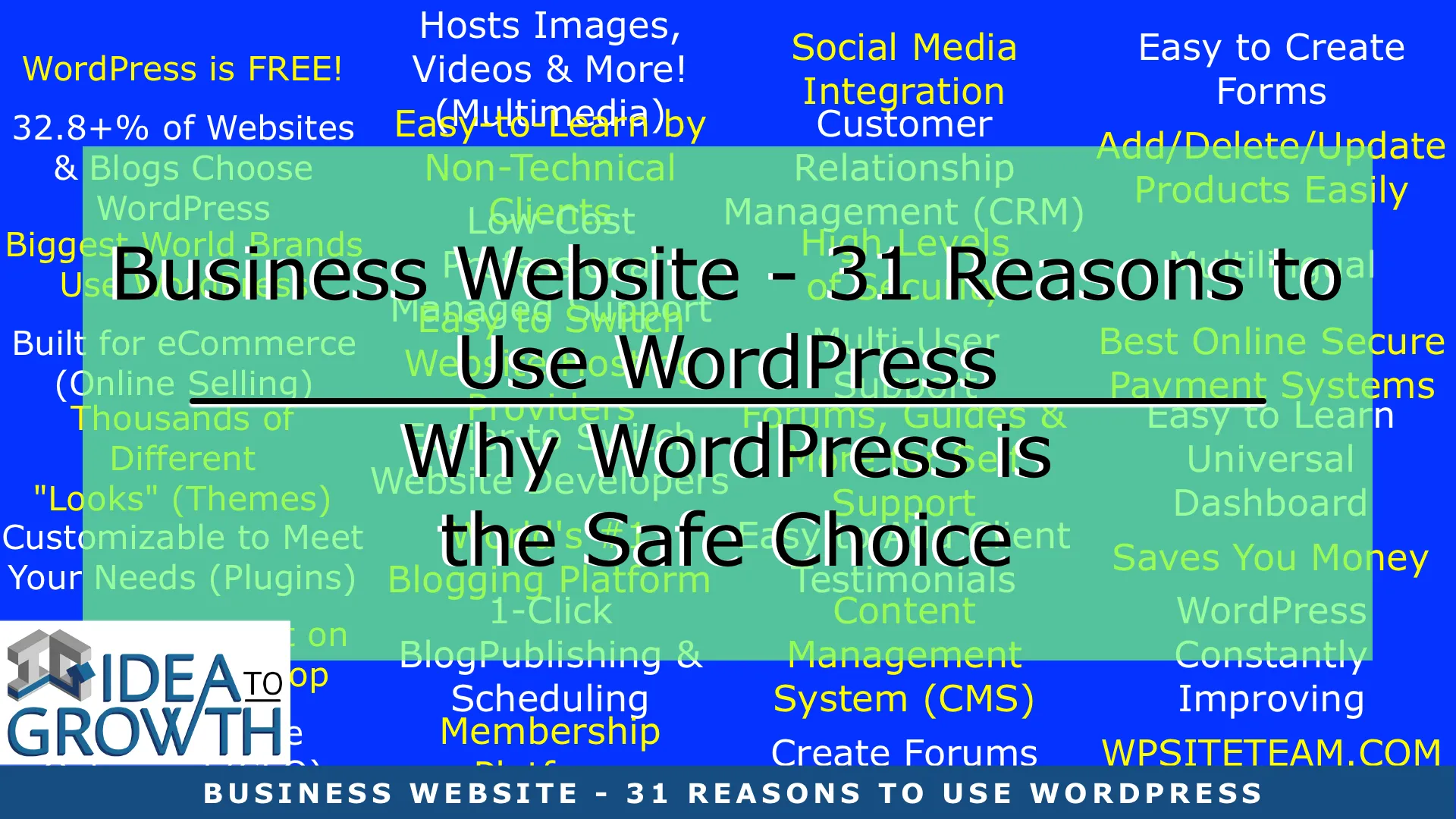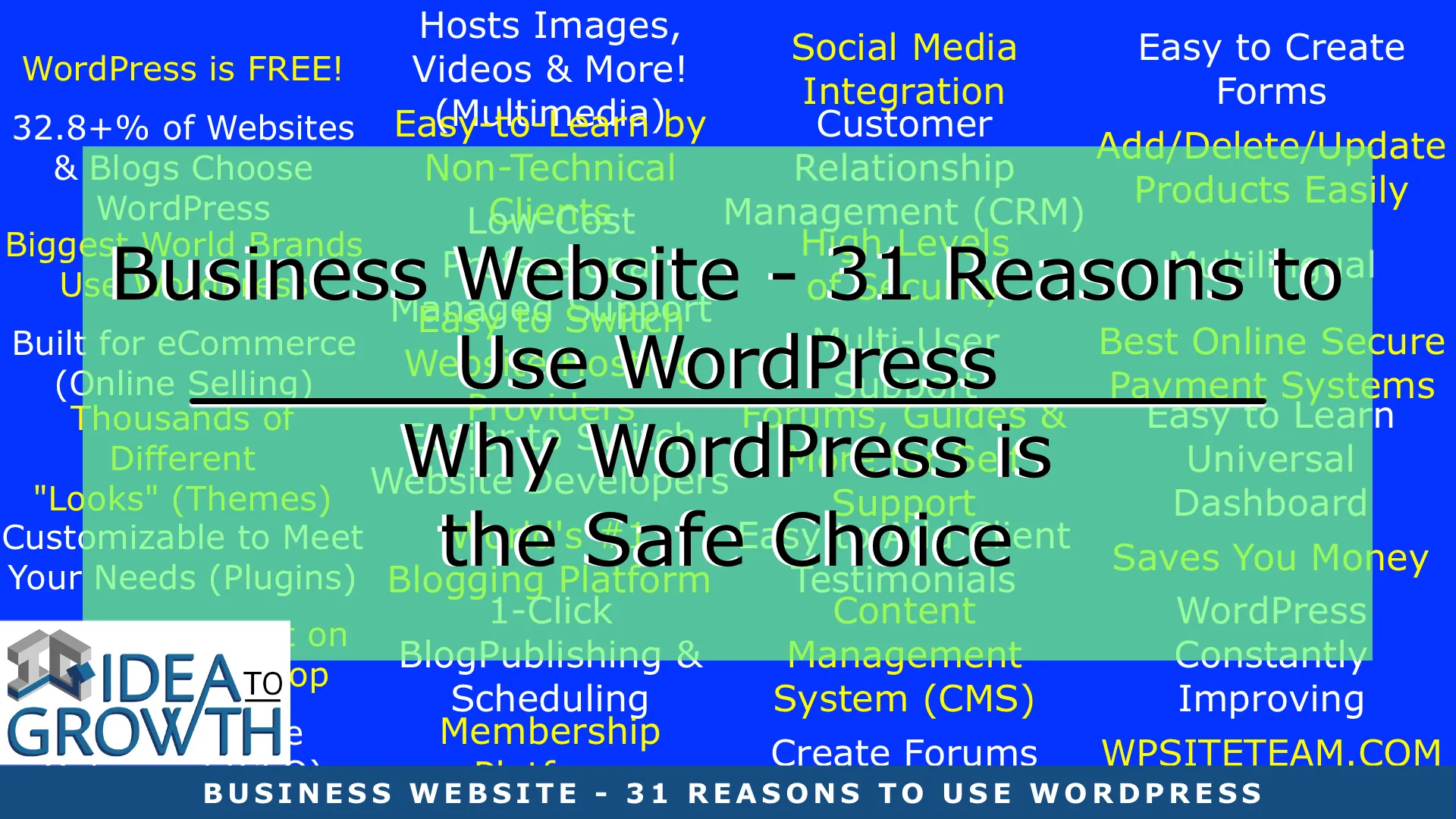 BUSINESS WEBSITE – 31 REASONS TO USE WORDPRESS
Why WordPress is the Safe Choice
We have or are starting a business. Perhaps we have an old website that looks terrible when viewed on our phone. Maybe we want to try our hand at writing and want to start a blog. We need a website, but we read and hear so many conflicting options.
WordPress – Squarespace – Wix – Weebly – GoDaddy – How do we make the best choice for ourselves?
As a small business person, college-educated engineer, serial entrepreneur, author, publisher, and software developer, I recommend you go with the safe choice – WordPress.
Allow me to share Business Website – 31 Reasons to Use WordPress and Why WordPress is the Safe Choice for virtually everyone.
WordPress is FREE! – Business Website
Yes, that's right. WordPress is 100% Free to download and use. WordPress got its start as a blogging platform when it first launched on May 27, 2003. On that date, anyone could download WordPress for free and set up a blog on their home computer and share their blog posts with the world without spending a single penny!
There are many services today that claim to be easy for a layperson to use. Don't buy it! Some of the top so-called easy-to-use website builders out there are SquareSpace, Wix, Site Builder, GoDaddy – the list seems endless – all require considerable time and effort to set up the simplest of websites.
Install WordPress by answering a few simple questions – Domain Name plus Your Name and Contact Info – and a complete website with a built-in blog is up and running. If you're open to reading a WordPress guide or two, you can learn the best software to add (called Plugins) to add additional features.
Now, suppose you're like most small businesses who want a great-looking website, with or without eCommerce (ability to sell your products and services), or an individual who wants to start with a blog before building an entire website. In that case, you can select a provider that provides Website Design, Development, Maintenance, Security, Support & Hosting, all done for you. At WPSITETEAM.com, we offer all of these services, including your website, for a low month-to-month price.
32.8+% of Websites & Blogs Choose WordPress – Business Website
According to W3Techs, over 32.8% of all websites worldwide use WordPress, making it the most extensive system for running websites and still growing. Click on their name/link to see the latest numbers. The users and website developers of the world have voted, and WordPress has won and is continuing to win.
Yes, you can choose from WordPress competitors, but ask yourself, "why"? In business, you are generally going to get the best supply and the best choices when you choose the leading platform. Yes, you can buy a Subaru (they're great vehicles), but when it comes to getting it serviced, it's likely to cost you more, and you'll likely have to drive farther to find a service provider. WordPress is everywhere. Finding help is quick and inexpensive compared to many other solutions.
Most significant World Brands Use WordPress – Business Website
Some of the biggest brands in the world use WordPress. Some notable examples:
The White House – whitehouse.gov
The National Archives – nationalarchives.gov.uk
Sony Music – sonymusic.com
The New York Times – nytco.com
Group Renault – group.renault.com
The Walt Disney Company – thewaltdisneycompany.com
To see a list of 100+ major corporations using WordPress, visit this link.
Built for eCommerce (Online Selling) – Business Website
Today, more and more of us are buying our goods and services on the internet. Internet millionaires are being made every day. Likely, you would like to become one of them, right?
The ability to sell your good and services quickly through your website is more important today than it has ever been. If your website was built 5 to 10 years ago, your website was likely not constructed to sell your goods and services.
I have met many local small businesses who don't believe being able to sell through their website is important because 100% of their customers are local.
I've met with and proved to them that they are 100% WRONG!
Today, 100% of their customers are local because few people from more than a few miles away will drive to their business to buy their goods or services. When you add eCommerce (ability to sell online) to your website, "Anyone in the World can NOW GIVE YOU MONEY!"
But now I'll have to ship that product to them. I don't know how to (or don't want to) pack and ship stuff. Well, I have a simple solution. Take the product to your local UPS store. They'll pack it and ship it for you! They'll even stop by your store to pick up all the stuff you sold online and take care of it. There is no excuse not to sell your goods and services through your website.
We use WooCommerce for all of our clients. It is the #1 eCommerce software for WordPress.
Thousands of Different "Looks" (Themes) – Business Website

Most of us are particular about the "look" of our website. Thousands of developers have answered that need by developing thousands of "themes." A theme is the term used to describe software added to WordPress to make your website look a particular way.
At IdeaToGrowth.com, we have found that because every client is different and every business need is other, the big, fancy themes you might have seen advertised are not a good choice for most. Inevitably they're missing things the client wants, and they have stuff that the client doesn't like. A poor theme choice results in us changing the theme to add features the client wants and disable or remove the client's features to optimize performance. Often, the software changes the client needs are incompatible with the theme they have chosen for the "look" they want. Changes to another vendor's theme can cost the client "a lot of money" as it can take dozens of hours to add and remove features.
For this reason, at IdeaToGrowth.com, we don't use fancy themes. We start each client project with a fundamental starter theme and then add those features that our client wants and needs. The website costs our clients a lot less money, the web pages open faster on clients' desktops and phones, and our clients are happy!
Customizable to Meet Your Needs (Plugins) – Business Website
WordPress "just works" right out of the box. Even so, since WordPress is a "framework," it makes it possible to add those features to your website that you want quickly. Think of WordPress as a new car. Every car comes with the basics. Four wheels. An engine. A radio. Seats. But most of us like to have a few "upgrades." Turbocharged engine. Stereo radio with Apple Carplay. Leather seating.
WordPress is like an auto. The upgrades we call them software Plugins.
One can add more security features (WordFence, Sucuri). One can add eCommerce capability (WooCommerce, Stripe, Square). You can add Membership capability (PaidMembershipPro). The list of upgrades is almost endless. The critical thing is to not go crazy on promotions. Each WordPress Plugin takes time to install, check, maintain, and upgrade and impacts the time it takes a web page to open on your website. Listen to your website developer and only add those plugins to bring measurable value to your visitor experience and revenue.
Sites Look Great on Mobile & Desktop – Business Website
One way I find new clients is to look around the world-wide-web for "old websites." Websites built before 2015 were typically not made to be "responsive'. The word "responsive" is a word website folks use to describe a website that adjusts the layout look and feel to be different and optimized for the size of the computer/mobile screen size.
We've all seen websites that display poorly on mobile devices. We use our fingers to pinch in and zoom in to read the text and figure out the pictures.
It's so frustrating that 99% of visitors who land on a site not designed to be responsive simply tap the back arrow or swipe to look for a competitor's website that they can read! That's a potential lost sale every time that happens. Who can afford that?
Search Engine Optimized (SEO) – Business Website
Most of us have heard the phrase SEO. SEO is short for Search Engine Optimization. That's a mouthful that means nothing to most website owners, but they know it's something important.
SEO is the term used to describe what developers and marketing experts do to make your website "discoverable" by your clients.
Yep, that's pretty important. There are "billions" of web pages. If your website doesn't have good SEO, it's going to be hard for potential clients to "discover" you.
An entire line of businesses exists to provide SEO. These businesses all use expensive software and inexpensive plugins to make your website have great SEO.
Suppose a small business owner doesn't have a budget of several hundred to several thousands of dollars a month. In that case, they need to learn how to use the easy-to-use plugins available for WordPress to help your web pages become more easily discoverable to your customers. It's not hard, but it will take you time to watch several videos and go through some guides to become proficient at the task.
Hosts Images, Videos & More! (Multimedia) – Business Website
Each year fewer and fewer people "read stuff." More and more of us prefer to consume our web content via a short video. Why read a bunch of words when we'd rather see a bunch of images?
WordPress works exceptionally well with Images and Videos. That's one reason it's the leading CMS (Content Management System) in the world.
Whether you're simply setting up a website to share thousands of family photos and videos, or you're a business with dozens to thousands of products to showcase with multiple images and videos for each, WordPress can handle your multimedia needs.
Easy-to-Learn by Non-Technical Clients – Business Website
WordPress started to serve as a blogging platform. Bloggers demanded that WordPress be quick and easy to learn because their job was blogging, not becoming a technical nerd.
WordPress has always been easy to set up and learn how to use by non-techy folks because of this early decision. Over the years, it has gotten more uncomplicated and more straightforward. Today, a nearly minted website owner needs to accomplish the essential things that are relatively apparent or easily discoverable. For everyone, there are tons of easy and quick to access online help and guides. Simply type "How do I do X on WordPress" into your browser, and you will get back millions of responses with the most straightforward solutions, guides, and videos on page one of the reply screen.
Low-Cost Professional Managed Support – Business Website
Most website owners want a website that does everything they need to do to maximize their business income but don't want to be bothered by technical details. If you're running a personal blog or small personal website, you can likely learn how to do everything you need on your own over weeks, months, or even years.
However, if you're a business, "time is money." You and your staff have other full-time priorities that don't allow for time to learn how to do "all this website stuff." You need someone you can trust to manage all the website stuff.
That's why there is Professional Managed Support for your website. Type Professional Managed Website Support into your browser. Hundreds of thousands of links appear on the screen. How do you pick?
Most will ask a fellow business person who they use
Others will choose the local company
Still, others will pick a name that has the most polished-looking website
I suggest making a list of all of the website support services that you need for your business. The options for support is lengthy, and the prices can get expensive.
Easy to Switch Website Hosting Providers – Business Website
At IdeaToGrowth.com, we offer a set of Low-Cost Professional Managed Website Services for every budget. Use our checklist to compare to our competition to help you make the right choice for your business.
A Website Hosting provider is a company that owns the computer hardware that your website physically runs on. It is a very capital-intensive business, so the list of providers that can financially keep the best computers available for you to "rent" is relatively short.
Today it is relatively easy to switch from one hosting provider to another. Again, software plugins exist that make this almost a 1-click switch.
Changing hosting providers still takes time and effort, so frequently changing is not recommended. However, should your hosting needs suddenly change up to or down, that is an excellent time to looks at prices and feature sets of the top 5-10 providers. Today, most website computers (referred to as "servers") run on Intel processors, use the Linus operation system, and use Flash storage (and not hard drives) for optimum performance. A shared server with your own dedicated CPU, 1-Gig of DRAM, and 30-50GB of Flash storage can be had from multiple vendors for around 5 USD ($5) per month.
It's Easier to Switch Website Developers – Business Website
Back before WordPress, most websites were "hard-coded." Hard-coded sites meant that if you had a falling out with your website developer or the website developer "Ghosted You," you often had to rebuild your website from scratch with a different developer.
With WordPress, that problem no longer exists.
Any experienced WordPress developer can take over your WordPress site and, within an hour of familiarizing themselves with your website, can do whatever is needed.
1 Blogging Platform – Business Website
As stated earlier, WordPress started as a blogging platform. Over time, other developers recognized the fine structure of WordPress and helped enhance the framework to be fantastic as a complete website development tool.
Today there are great plugins for helping bloggers.
A few include spell checkers, grammar checkers, plagiarism checkers, SEO tools, Keyword Research tools, and more.
Other platforms started as a blogging platform, which has helped keep the development community behind WordPress "on their toes," but why choose a smaller market share blogging platform?
1-Click Blog Publishing & Scheduling – Business Website
I get asked all the time from newbie bloggers about how to schedule and publish their blog posts. Do they need a special plugin? Do they have to set the alarm on their watch to remind them when to publish their latest blog post?
WordPress makes it easy!
Membership Platform – Business Website
Does your website have the ability to "have members"? No? Then you are missing out on incredible streams of revenue! People love to be members of almost everything. Credit cards started doing "Reward Membership Clubs" more years ago than I can remember. Many large corporations have a "Loyalty Membership Club." These companies use Memberships to Attract, Retain and Sell to their members—WordPress rocks at being a membership site. There are many great plugins you can use. I use "Paid Membership Pro" for my site and my clients. Its name is a misnomer as the plugin is free – and it is fantastic. Check it out.
Social Media Integration
WordPress is all about Social Media integration. Virtually every theme has Social Media Links built into either the Top Bar, the Header, the Footer, and the Sidebar. If your website doesn't have Social Media capability – and in all four of those sections of your website that I just mentioned, then you are leaving "Money on the Table."
Your business should be on all of the top social media sites: Facebook, LinkedIn, Pinterest, Instagram, Twitter – at a minimum.
You should be using a social media scheduling tool to manage all of the social media interactions. I currently use Sendible for handling all of my and my clients' social media. It's easy to learn to use, and it can manage most social media platforms.
Customer Relationship Management (CRM) – Business Website
Are you sure you understand what an accurate CRM tool is?
CRM
A CRM (customer relationship management tool) allows you to manage customer information in one location. It also provides you with valuable insights into your business's history with the customer.
How do you manage your customer relationships? Perhaps you don't. Maybe you use a spreadsheet? A few of you possibly use serious CRM tools like Zoho or Salesforce. If you sell through your site, there's a good chance you use WooCommerce. Check out this article of 10 Top CRM Plugin for WooCommerce.
High Levels of Security – Business Website
It seems like every website in the world is being hacked today. Target, Marriott – so many companies hacked that it has become a blur. The good news is that most of the hacks were through the incompetence of the companies internal computer teams. Each case was different, but it all came down to a failure in security processes. In some cases, passwords were "123456". In other cases, some websites had no password at all was set. The bottom line, if the proper security software has been installed and properly configured, few to none of these break-ins would have been possible.
WordPress has the best security software plugin in the world. WordFence, Cloudflare, Sucuri Security – Auditing, Malware Scanner and Hardening, Akismet Anti-Spam – are some of the critical software plugins we use. We also do custom hardening on the server as well. Bottom line: There is no reason your site should be able to be broken into or compromised if you're running WordPress.
Multi-User Support
WordPress supports multi-user environments. Heck, Walt Disney runs their sites on it, and you can only imagine the number of visitors to their sites that they get every minute of every day! Load-balancing, replication – WordPress does it all. You worry about finding all the clients you want. WordPress can handle the load.
Forums, Guides & More for Self Support
WordPress started for bloggers. Bloggers want to write, not spend all their time setting up and managing a website. There are thousands of WordPress forums available to help you whether you are a beginner or an expert – and they're (mostly) all 100% FREE!
Easy to Add Client Testimonials – Business Website

We all understand the power and value of client testimonials on our website. With WordPress, you are free to add each one manually, allow clients to do so independently, or review each client testimonial before being visible on your website. I recommend that latter as you don't want uncontrolled posting onto your website. Some folks can get pretty mad over the simplest of issues and go off on a rant.
Powerful Content Management System (CMS)
There are two basic types of websites – Static and Dynamic. A Static website is precisely what it sounds like. The content is static – it never changes. Many of the most straightforward websites are static sites. Most are one-page sites that list the name of the business, the address, phone number, hours of operation, and maybe a street picture of the building's location. It that works for what you need – have a static website.
However, nearly 100% of businesses need much more than that for their website. They need a Dynamic website that can be integrated easily by both its owners and visitors. Dynamic website all need a CMS – Content Management System – and WordPress is a CMS. All CMS's have databases. WordPress can use any database – SQL, MySQL, Postgres, and newer databases from Google, AWS, IBM, and others.
Create Forums – Business Website
If you want to set up and run your forum, WordPress can do that too. Check out this blog post for the Best WordPress Forum Plugins.
Easy to Create Forms
I Love Forms! If you want to grow your business like a rocket and not a tortoise, you will love forms too! The most common of all forms is the Contact Form. You've seen them. The simplest is the single box that asks for your email only or your email and your first name. A form is the standard interface for saving information into your database for later use.
You can create larger, more complicated forms for complex business processes. I have a SaaS (Software as a Service) product comprised of over a hundred papers and over 1000 fields.
As I said, I Love Forms!
Add/Delete/Update Products Easily
If you run a business in which you sell physical products, you likely are changing both products and product prices constantly. Varying prices can be significant pain and time consumer. WordPress makes it easy. I use WooCommerce for my site and the sites of my clients. You can quickly go to a list of products and change prices, adjust inventory, create sales start-stop dates, add a new product, delete a product – all in moments.
Multilingual – Business Website
I can not tell you how many businesses never think about any language other than the one the business owner speaks. What a mistake! Multiple languages are spoken in major American cities like New York, Los Angeles, San Francisco, Houston, Dallas, and many more. In that case, more large swaths of potential customers by having your website only available in your native tongue. If you live in Europe, you are even more dependant on having potential clients read your website in multiple languages.
WordPress has great plugins that you can install in your navigation top bar to allow visitors to switch to their preferred language. Tools like Google Translate can enable you to convert your written content to any language quickly. There is no good excuse for ignoring potential customers simply because they don't read your native tongue. Check out this review of WordPress Translation Plugins.
Best Online Secure Payment Systems – Business Website
I talked earlier about the importance of security and how WordPress is excellent at protection. The first step in having a secure online payment system is to have an SSL Certificate for your website. Read this post I wrote to learn how easy and inexpensive it is to put an SSL certificate on your website – 17 Upside of Migrating Your Website from HTTP to HTTPS.
The next step is to select a world-class payments processor. The best ones are all integrated with WordPress. I use both Stripe and Square (SquareUp) for my site and my clients. All the financial transactions and client confidential payment information take place on their web servers – NOT YOURS! So should your website get hacked, you don't have to worry about being ruined by losing your clients' financial information.
Easy to Learn Universal Dashboard
Every WordPress Dashboard looks the same. The Dashboard is where you, the website owner or administrator, interface to WordPress. As dashboards go, the WordPress dashboard is relatively simple. The WordPress Dashboard makes it easy for even novice users to get comfortable interacting with WordPress in under an hour.
Saves You Money
WordPress is FREE! Yes, it costs you time to learn to use and manage it, but that will be true of any software you use. You can spend money on premium Plugins, but you don't have to pay any money to have a fast, easy-to-use, secure WordPress site. You can even host your site for free, but I recommend spending $5/month to host your site. If you outsource your website management, which I recommend for most small businesses, you can find very competitive prices because most websites run on WordPress, so there are many experts from which to choose.
WordPress Constantly Improving
WordPress is an Open Source platform. That means that millions of programmers worldwide contribute daily to making WordPress faster, safer, and easier to use.
Conclusion – Business Website – 31 Reasons To Use WordPress

OK, that's it for this post. If you have questions, reach out. I'm here to help.
I hope I have educated you on the "Business Website – 31 Reasons to Use WordPress" for your business or blog.
Join me and the millions of other WordPress users in having fun and using WordPress to make tons of money!
Want to Learn More?
If you or an executive member of your management team could benefit from some Executive Coaching Agency services, please visit our website at https://IdeaToGrowth.com/.
Tap the Contact Us button below to reach out to us at IdeaToGrowth.com, and we can help!
"Helping You Build Your Business Stronger!" is our motto.
100% FREE GOOGLE PAGE RANK ANALYSIS
I want to prove my value to "Helping You Grow Your Business Stronger!" by offering a 100% Free Google SEO Pagerank Analysis. Share your homepage URL (Domain Name) and the email I should send your 100% FREE Report and within a day or two I'll point out the Top Items on your business website that are Costing You Customers.
QUESTIONS?
If you're ready for a F2F Zoom chat, or want to ask a quick question by email, click the appropriate link below.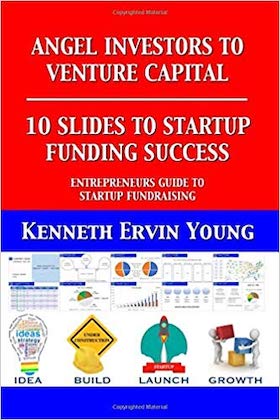 SALES ARE OPEN FOR MY NEW BOOK!
"Angel Investors to Venture Capital –
10 Slides to Startup Funding Success –
Entrepreneurs Guide to Startup Fundraising"
Learn the 10 slides you need to create in order to have a great shot at raising venture capital from venture capitalists!

I'll walk you, slide by slide, how to create content that will attract top venture capitalists to fund your idea, just like I raised over $100M dollars in Silicon Valley for my startups.

I cover every slide in great detail, including not just the words and content, but even font colors, fonts, font sizes, images – all the details to give you the best shot possible!