09 – PITCH DECK TEAM SLIDE – 10 SLIDES TO VC FUNDING SUCCESS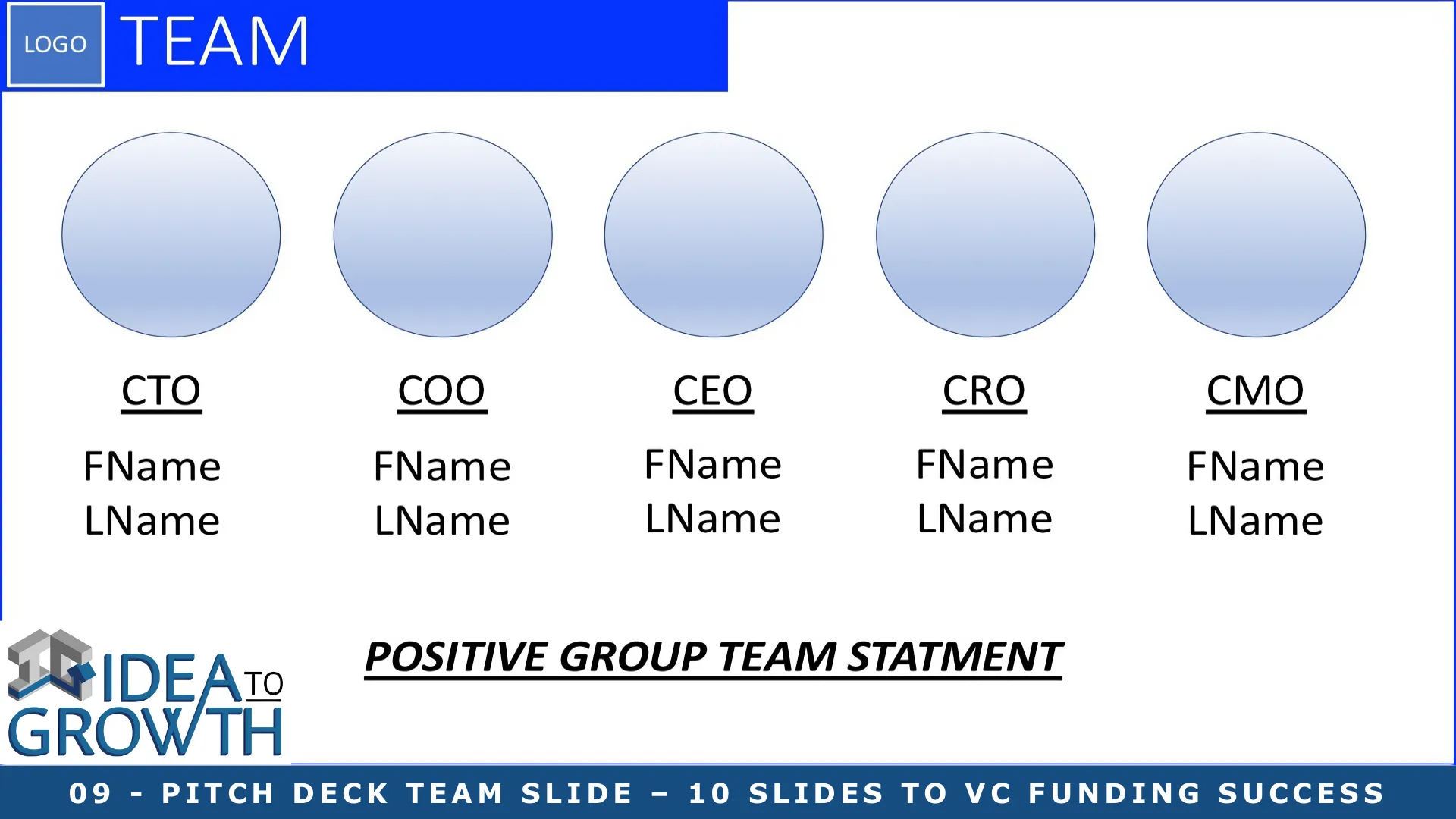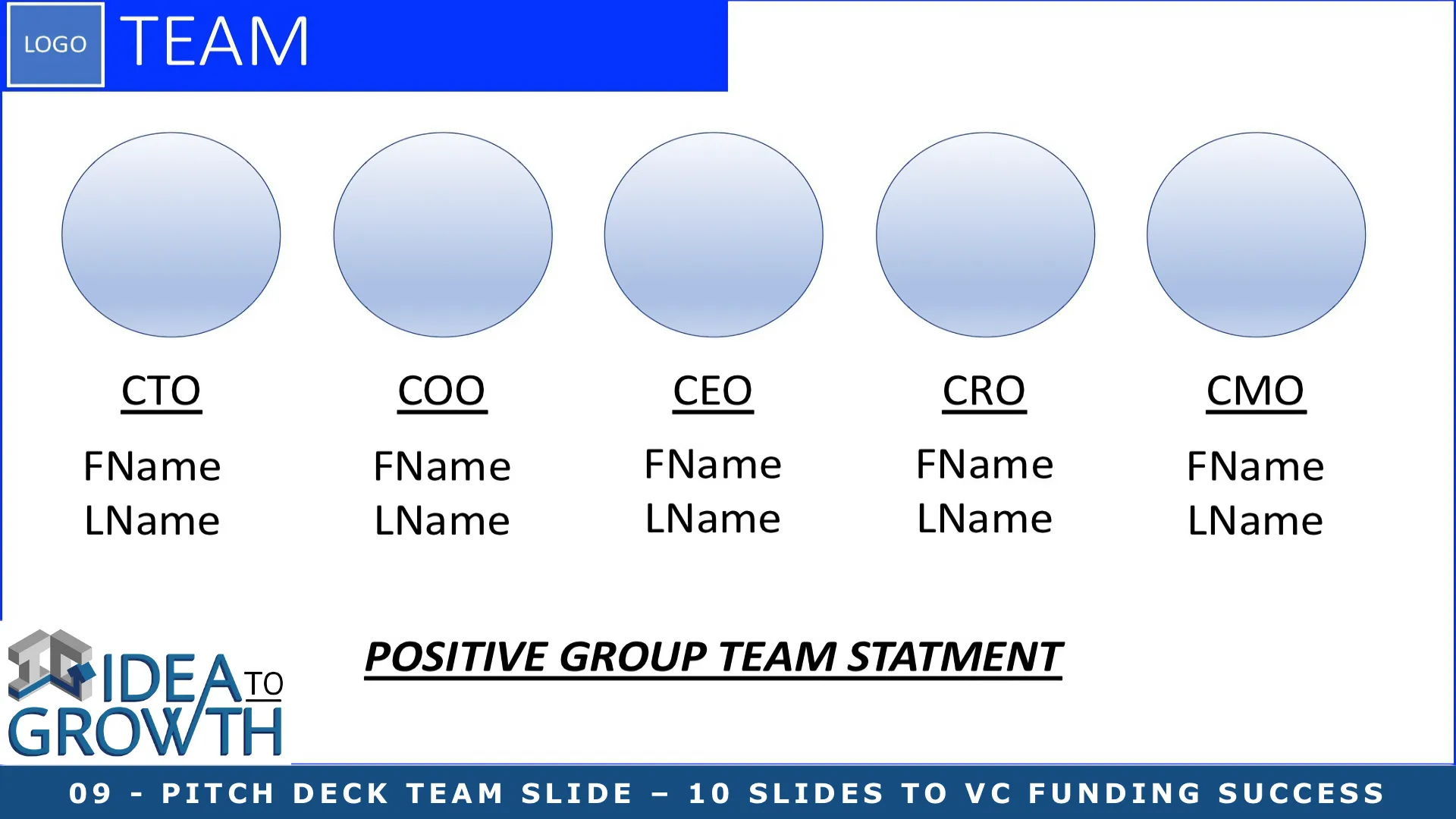 9: Pitch Deck Team Slide – 10 Slides to VC Funding Success
❏ Today in Part 9 of my series on 10 Slides to VC Funding Success, I'll speak on 9: Pitch Deck Team Slide – 10 Slides to VC Funding Success.
The ninth page of every successful VC Pitch Deck is the Team Slide. After discussing the Financials slide, you should immediately launch into talking about the Team that is making all this happen.
What is the Team? You will learn in this article the answer to this question and what is essential to show on your Pitch Deck Team Slide.
My History:
One of my responsibilities as an Executive Coach is helping company founders with the creation of their Investor Pitch Deck. Throughout my career, I have created and reviewed many Investor Pitch Decks. Some of our team's Investor Pitch decks, especially early in my startup career, upon reflection, were "horrible."
Sometimes our teams were successful in raising monies from investors. Many times they were not.
I never thought that the content and presentation style of the investor pitch deck might be hurting us. Boy, was I ever wrong! By working with many investors, I've learned what they want in an Investor Pitch Deck. In my last company, we raised $87M over rounds A, B, and C.
So in this series and an upcoming book, I look to share my hard-learned lessons from 20+ years of being an Entrepreneur.
The Investor Pitch Deck Series:
In this series you will learn the order and the importance of each of the following Pitch Deck Slides:
This 10-part series covers the ideal content, order, and flow of the ten Investor Pitch Deck Slides. You'll have learned how to craft your story into a successful ten-page Investor Pitch Deck that can get you funded!
When an Entrepreneur is putting together their Investor Pitch Deck, they usually assemble a hoard of information. Sadly, often what they construct is a "book" that is 20, 30, even as much as 80 pages in length! Most of us humans have a very short attention span. Even ad networks know that most ads longer than 30 seconds in length don't work with consumers. For Investors, the successful length of an Investor Pitch Deck is about ten pages and 7-15 minutes in presentation length.
Pitch Deck Team Slide – Why Important?
Last week in 8: Pitch Deck Financials Slide – 10 Slides to VC Funding Success, I spoke about the Financials slide and its importance.
This week I'm speaking to the Pitch Deck Team Slide, the ninth page of every presentation and its significance. After discussing the Financials slide, you should immediately launch into talking about the "Team" that is making all this happen.
Why? The investor should be convinced on your company's idea, or they're surfing the web on their iPhone! If you've done your job well, it's the former. As an Investor, now I want to know the Team that I would be investing in if I move forward.
If you've followed this series, and your investor's in your Market space, they'll be on the edge of their seats!
Pitch Deck Team Slide – Content
Most Pitch Deck Team Slides I see from entrepreneurs are incredibly generic. Often they are as simple as a list of name. Sometimes they are a single group picture. Sometimes there is NOT a team slide because there is no team. The company only has one founder and no management members.
Your Pitch Deck Team Slide should show who your management team is. Use a simple color headshot. Usually, the image on LinkedIn works. Below the picture put their full name and below that, their management title. Under the management title, include their years of relevant experience – "10 years" – if it adds to your story.
While we're speaking of LinkedIn, review each management members profile. Make sure both the picture is current and appropriate (no casual shots). Make sure the content follows "best practices" as outlined by many prominent Business Coaches and other professionals. Take a look at other social media sites of the management team. Make sure general Facebook users can't see content that is derogatory or unprofessional. Delete any pictures of the person drunk at a party or a video doing anything many Mom's would find objectional. Even strong positions of a political nature can hurt an otherwise excellent team from raising monies.
See the image associated with this article to see a great example.
Pitch Deck Team Slide – What's Your Story?
So, what do you say while your Pitch Deck Team Slide is visible? Speak to the talents that each team member brings. Speak of their specific contributions to a prior, well-known company. Mention any outside philanthropic activities. Speak about your abilities "last."
Allow me to give one pitch example.
"Now I'd like to introduce my incredible team! Mary Simmons is our Chief Technical Officer (CTO). She has been building websites and mobile applications since her college days. She most recently was at Square Space where she was VP of Technology in charge of Template Development. John Myers is our VP of Sales. He has over 20 years of Sales experience at companies including IBM, Incorp, and Cisco. I'm Jim Johnson and serve as the CEO. My experience includes VP of Business Development at Sun Microsystems and Director of Business Development at IBM.". Short, sweet and focussed. You've shown the investor that you can assemble a rock star team. You've also minimized any concern that if you dropped dead, their investment is in the hands of a competent team.
Presentation: We Can Read or Listen – Not Both!
Most of us humans can either "Read" or "Listen," but cannot do both at the same time. Your Pitch Deck slide presentation exists to support "the story" you are going to be telling your audience. Does your Investor Pitch Deck has a lot of words, charts with numbers, or distracting images? Then your audience is going to switch their brain into "reading mode" and out of "listening mode." As soon as that happens, you've lost your audience and will struggle to get them back to listening to YOU! To avoid this, use mostly images and as few words as possible, usually in bullet form. So absolutely, positively NO SENTENCES!
Conclusion
So, I suspect many of you were surprised concerning the importance of the Pitch Deck Team Slide. If you're starting you create your first investor presentation, congratulations! You're going to be starting on the right foot if you follow my recommendations above. Go back and look at your Team slide and apply what you've learned above. If possible, you should wait to read the remainder of the series before you present again. I can almost promise you a better reaction from your audience.
100% FREE GOOGLE PAGE RANK ANALYSIS
I want to prove my value to "Helping You Grow Your Business Stronger!" by offering a 100% Free Google SEO Pagerank Analysis. Share your homepage URL (Domain Name) and the email I should send your 100% FREE Report and within a day or two I'll point out the Top Items on your business website that are Costing You Customers.
QUESTIONS?
If you're ready for a F2F Zoom chat, or want to ask a quick question by email, click the appropriate link below.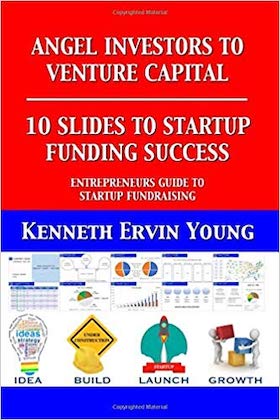 SALES ARE OPEN FOR MY NEW BOOK!
"Angel Investors to Venture Capital –
10 Slides to Startup Funding Success –
Entrepreneurs Guide to Startup Fundraising"
Learn the 10 slides you need to create in order to have a great shot at raising venture capital from venture capitalists!

I'll walk you, slide by slide, how to create content that will attract top venture capitalists to fund your idea, just like I raised over $100M dollars in Silicon Valley for my startups.

I cover every slide in great detail, including not just the words and content, but even font colors, fonts, font sizes, images – all the details to give you the best shot possible!