VENTURE CAPITALIST – TAMPA BAY AREA WANTS YOU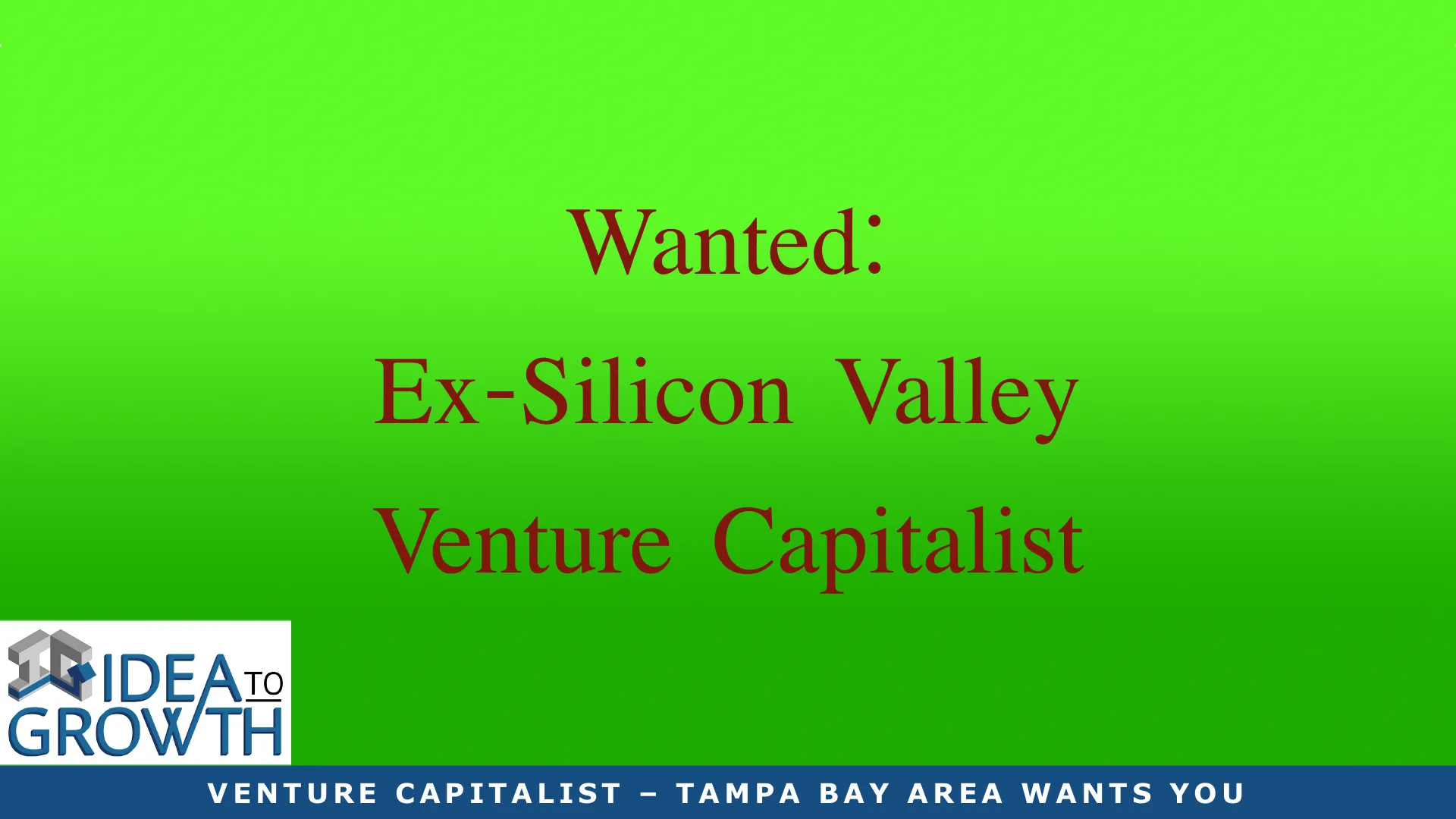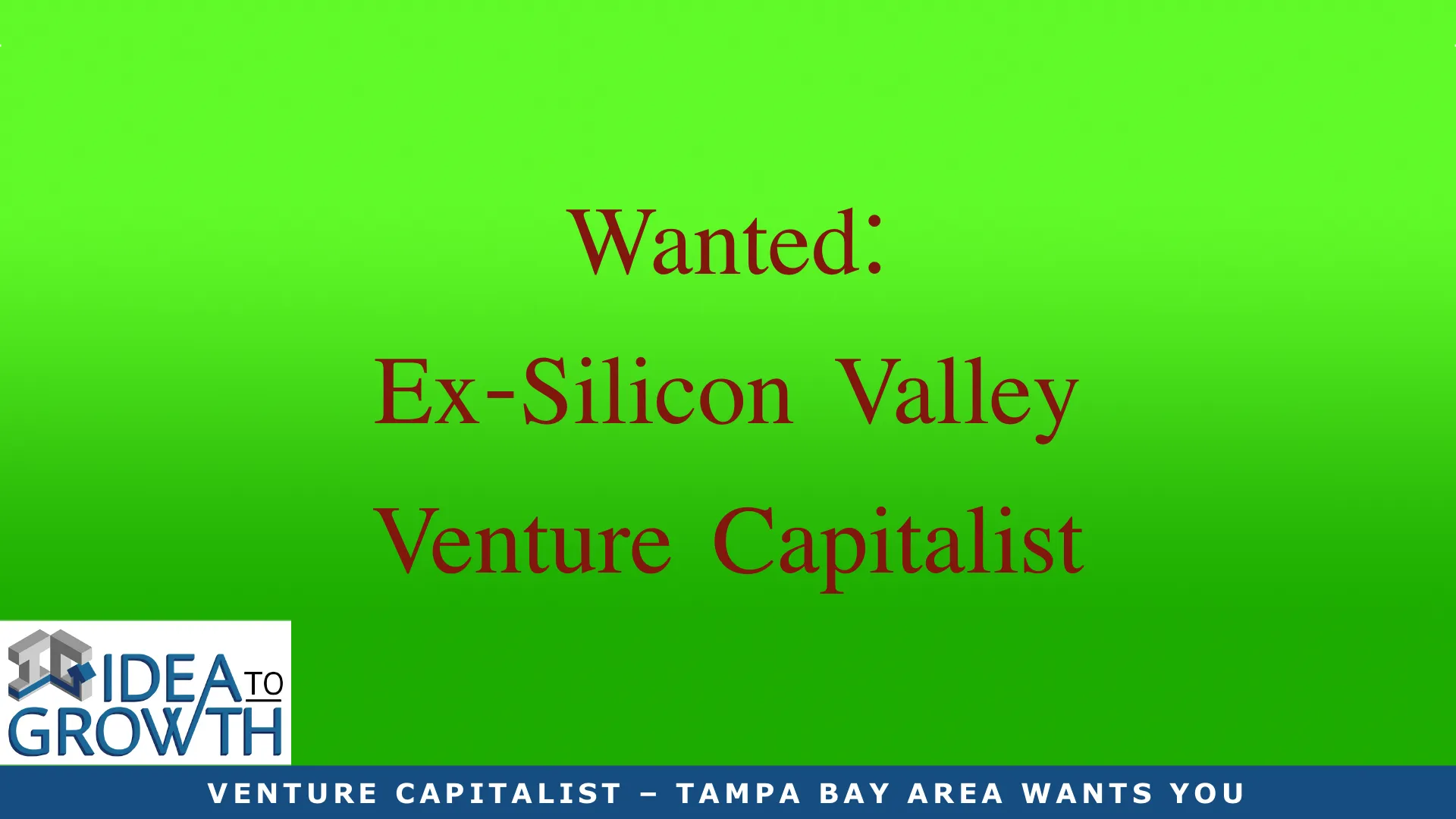 VENTURE CAPITALIST – TAMPA BAY AREA WANTS YOU
❏ Today I'm speaking on Venture Capitalist – Tampa Bay Area Wants You.
I am a coach and mentor at a Tampa FL High Technology Incubator, and they are interested in having such a person work with us to help our Florida startups. Want to hear more of our story? Let's get started!
I spent over 30 years in Silicon Valley. Most of my time there was spent founding, co-founding or in executive roles. Silicon Valley is home to many Startup Incubators and Accelerators. Their job is to help identify the next "big thing" and the "teams" that can make it happen.
In late June of 2015, my wife and I decided it was time for a change. We decided to move to my birth state of Florida.
I now help at a Tampa FL high technology accelerator and am working with over a dozen startups. My startup, Idea To Growth LLC, I started here in early 2017.
Growth of an Investment City or Area
Over the years, I found that not every hot idea or team lives or wants to in Silicon live Valley. Venture capitalists have discovered this also. There are great ideas and potential founders in every part of the world. Often, they usually want to stay where they started the company.
One of the challenges for bright and hard-working startup founders is getting help in their local communities to get their young companies off on the "right foot." This "help" in most cities usually starts in the form of MeetUp groups.
Later, Incubators and Accelerators, both non-profit and for-profit form. These provide the much need coaching. Mentors help get startups the knowledge needed not to make the big mistakes that can often sink young companies.
Next, a network of high-net-worth investors often referred to as Angel or Seed investors, become aware of the startups and begin making small investments. These investments are usually in the range of $5000 to USD 25K. A few of these investments pay off, but the majority do not.
One solution to the low success rate of Angel Investors is to pool their investment dollars. They do this by forming a fund and invest in some companies together. A group of high-net-worth individuals will get together and create a Micro VC Fund. This type of pooling of assets allows a single investor to invest in 10-30 companies over the 10-year fund life. The math says group investments are more likely to have a positive return on investment versus random single financial placements.
The Next Challenge: Easy Access to Big Money
Once a startup is making some money, they usually need a significant injection of "gas" to accelerate. This "gas" comes in the form of millions of dollars of investment monies. Once a young company gains significant traction, it must accelerate growth. If they don't rapidly grow, they risk being "copy-catted" by another company with greater financial resources. Avoiding being copy-catted is where access to "big capital" is critical. The challenge is how to get quick and easy access to significant capital?
A recent analysis of the flow of investment dollars has shown that approximately 40% of the Venture Capital invested dollars come from Silicon Valley. The next most significant area is New York City, followed by Boston and Los Angeles, accounting for the next 25%. It thins out pretty quick after that with Washington DC, San Diego CA, Seattle WA, Dallas-Fort TX, Chicago IL, Atlanta GA, Philadelphia PA, Austin TX, Denver CO, making up the next 17%. Each of these cities has between 1% and 4% of the total dollars invested. No other town broke 1%.
Ways to Fix the Access to Big Money
So what's a city or region outside of these areas to do to help their local startups? Your local Incubator or Accelerator wants to attract local mentors who have personal VC contacts in Silicon Valley. These mentors can use their Silicon Valley contacts to make warm introductions and help set up face-to-face meetings.
You can push for existing VC's to establish a satellite office in your area. Getting a satellite is all but impossible until your city has had "exits" with multi-hundred million plus USD valuations. It took Silicon Valley 30 years to be what it is today. Your city or region doesn't want to take that long!
Using your Mentors is a great first start and one that every incubator and accelerator must do. Your Mentors can help get you off the ground, but most Mentors are part-time volunteers. Most put in 1-4 hours a month at best. Yes, even 1-4 hours is a huge help. But if you want your region to be "big" you have to try other ideas.
I want to focus on one of these "other" ideas.
Hire Your Own Internal Silicon Valley VC
Hire an experienced Silicon Valley VC. Bring them to your area to run your own Startup Company Investment Strategy Program. Yes, you can also focus on one of the cities above that invests up 25% of the annual investments. But I want to start with the area of the country that invests 40% of those dollars – Silicon Valley.
This ex-Silicon Valley Venture Capitalist would be responsible for working with each of your local Incubator or Accelerator Startup teams. They would map out a strategy of the Investments needed at each stage of the company's growth. Next, they would create a list of investors and VC's who are likely to fund each business at each step. Then using their experience, along with their Rolodex, help the company founders set up meetings with Silicon Valley VC's.
How to Attract and Hire a Silicon Valley VC to Your Local Accelerator / Incubator?
So this is my fundamental question and why I wrote this article. I'm looking for anyone who has successfully attracted a Silicon Valley VC to join their Incubator or Accelerator. If you have, you are likely one of the 17% of Investor dollar areas. If not, you're likely in the 18% areas that are in the article I linked to that I didn't list.
My questions are many. Did you make the role part-time or full-time? What sort of budget did you make? Did the compensation package include anything uniques? What were the key things the Venture Capitalist was looking for to make a move?
Please email me at [email protected] with your ideas or experiences. Also, if you are reading this on LinkedIn or Medium, feel free to post your thoughts there too. I'm hoping that what I learn from this will become a model for repeating this in locales around the world.
Thank you in advance!
Venture Capitalist – Conclusion
I hope I have educated you on how to Venture Capitalist – Tampa Bay Area Wants You.
If you are a retiring VC, or one looking to move from Silicon Valley to the Sunny, Warm Gulf of Mexico on the central side of Florida, reach out to me and let's talk.
100% FREE GOOGLE PAGE RANK ANALYSIS
I want to prove my value to "Helping You Grow Your Business Stronger!" by offering a 100% Free Google SEO Pagerank Analysis. Share your homepage URL (Domain Name) and the email I should send your 100% FREE Report and within a day or two I'll point out the Top Items on your business website that are Costing You Customers.
QUESTIONS?
If you're ready for a F2F Zoom chat, or want to ask a quick question by email, click the appropriate link below.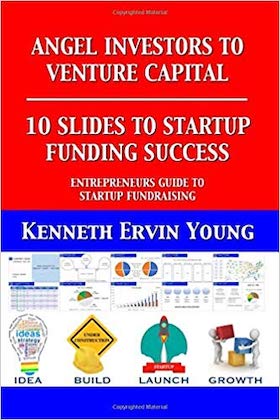 SALES ARE OPEN FOR MY NEW BOOK!
"Angel Investors to Venture Capital –
10 Slides to Startup Funding Success –
Entrepreneurs Guide to Startup Fundraising"
Learn the 10 slides you need to create in order to have a great shot at raising venture capital from venture capitalists!

I'll walk you, slide by slide, how to create content that will attract top venture capitalists to fund your idea, just like I raised over $100M dollars in Silicon Valley for my startups.

I cover every slide in great detail, including not just the words and content, but even font colors, fonts, font sizes, images – all the details to give you the best shot possible!