OFFICE SPACE – 15 SMART QUESTIONS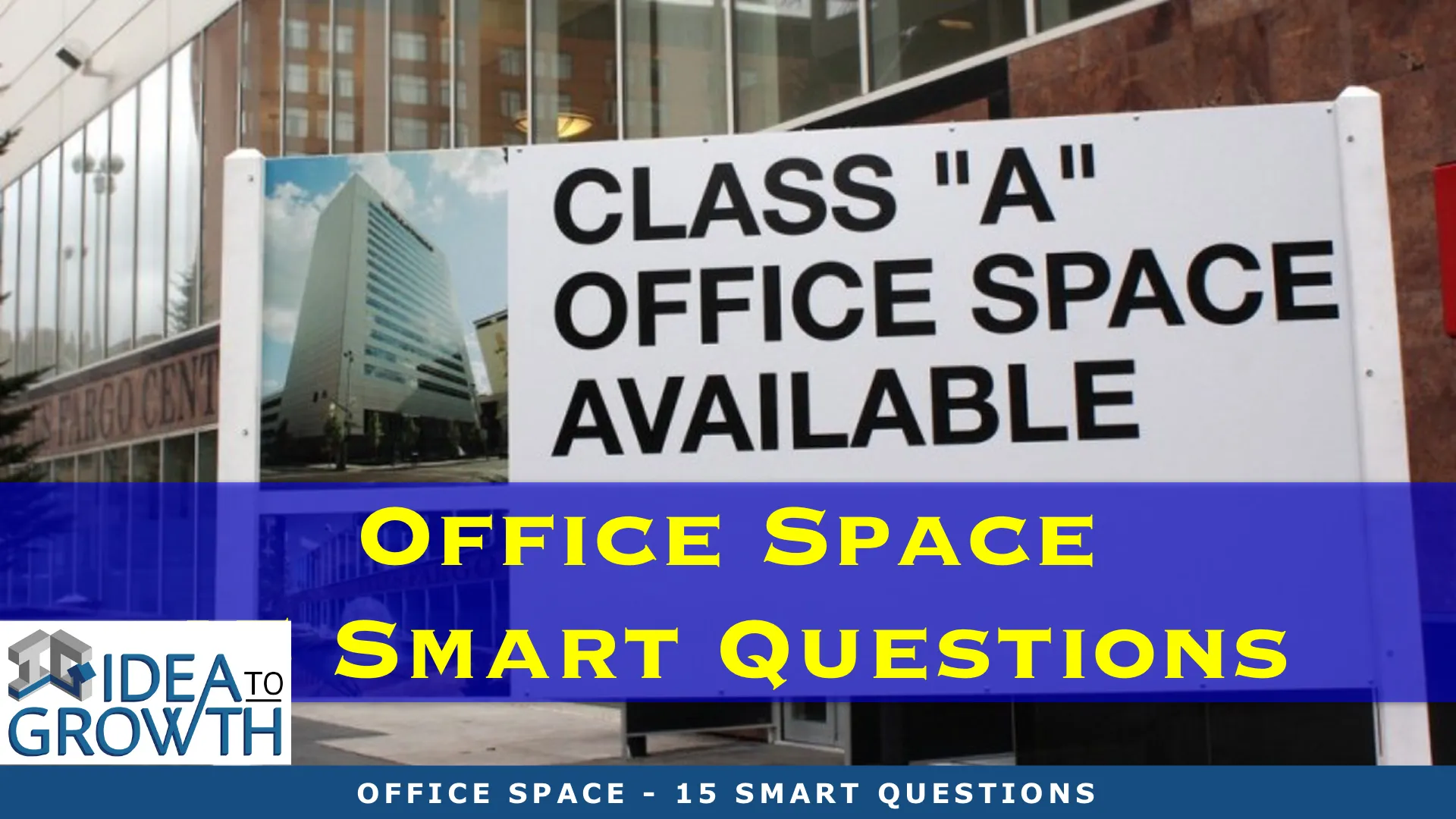 OFFICE SPACE – 15 SMART QUESTIONS
Today I am speaking on the topic: 15 Powerful Office Space Questions.
Before making that final decision on your next office space, there are often long time gaps between changing office locations, so we forget a lot.
Today may be the first time that you have rented office space. You may be unsure as to what key questions you should ask yourself, your team, and the new landlord.
POWERFUL OFFICE SPACE QUESTIONS
Why is Your Business Office Space So Important?
Choosing the right location to "go to work" each day can significantly impact the success of your business. If you make the wrong choice, you may:
Spend too much money
Lose productivity
Impact your ability to attract and retain Key Employees
Impact your ability to attract Key Customers
Not appear professional to Client
Make it hard to attract employees
Be too Big or too Small for your Needs
and so much more!
I want to help you make the best decision you can, and that starts with Office Space – 15 Smart Questions. Let's get started!
1: What is the Right Office Space for our Business Stage?
I coach that there are 4 Stages to every successful Business. The Idea Stage. The Build Stage. The Launch Stage. The Growth Stage. Each of these successful business stages has a different set of office space needs.
In the Idea Stage of your business, typically, only one to a few people are involved and likely part-time. Working from your homes and meeting in coffee shops will be all you need.
Typically, in the Build stage of your business, only a few people are involved and likely part-time. Again, working from your homes and meeting in coffee shops will be all you need in most cases.
In the Launch Stage of your business, you typically have a small team. Several will soon or have converted to full-time team members. Working from your homes and meeting in coffee shops is no longer working for you and your team. You need a committed space to work. If you are a retail business, this is when you open your doors to clients.
In the Growth Stage of your business, you typically have a full-time team, an office location that may be getting too small for your needs, and a growing list of paying clients.
2. Is this the Right Location for my Key Employees?
Attracting and retaining a great team is a big challenge for most company leaders. Working out of a spare bedroom, kitchen table, or coffee shop is not a great way to attract top talent. Neither is leasing a run-down space in a seedy part of town.
Top talent wants to feel optimistic about the company space that they work in 8+ hours a day. High ceilings, good (and free) parking, great desks and chairs are a big deal.
If you want top employees, you need to have a great office space for them to work.
3. Is this the Right Office Space Location for my Clients?
Attracting great clients (non-retail) or many customers (retail) is key to every successful business. You are not sending the right message if you have to meet clients in a coffee shop or sell them your goods out of the trunk of your car.
Also, if most of your clients or customers are local, you want to have your business location as centric to them as possible. No client or customer wants to drive into a seedy part of town or a run-down building. No client or customer wants to go where there is limited parking. They don't want to feel unsafe getting out of their autos because they see deadbeats hanging around abandoned buildings.
Pick an office space that fits the business impression you want to start every meeting off with – a smile!
4. Does this Office Space Send the Right Signals?
My business experience is in starting and running high-technology companies. Not only did I have to choose my office space to meet the expectations of my Employees and Clients, but I also had to send the right signals to my Investors.
It would have been a mistake for me, and for most of you, to have an office space that was out of place, cost-wise, to their expectations. If my Investors or Clients walked into our offices and saw $2500 chairs, $5000 desks, and fancy art on the walls, they would not feel good about how we were spending their money.
No client wants to feel like they're paying for your Porsche or next home. Pick a business office space that sends the right signals to your customers, employees, and investors.
5. Does the Office Space Lease Term Match my Growth Expectations?
Office space lease terms come in two common forms: Month-to-Month and multi-year leases.
If your company is not profitable, find a space with a month-to-month lease or a lease term of 6-months or less, if possible. If the company runs out of money, the business owner is most likely personally responsible for paying the lease in full.
I've seen many personal bankruptcies because of someone with a young company signing a multi-year lease.
If your company may need to grow its space rapidly, you also want a short-term (< 1-year) lease. You don't want to be stuck paying for a business space that you have to leave when you outgrow it.
You can mitigate the need for a larger or smaller space while still in a lease if you work with a building owner who owns multiple buildings.
Multiple building owners will offer an out-clause. This out-clause allows you to move into another one of their spaces on a 90-180 day written notice you out of your current lease without penalty.
A long-term lease (1+ years) is a good deal if you know you will not need more space and the commercial market in your area is tight on space. Lease pricing in this tight supply market is likely to rise rapidly, and you don't want to be priced out of your office space when your lease comes up for renewal. Many leases contain annual price escalation clauses.
Be careful with these clauses because they can lock you into 5+% annual increases even in a falling rental market.
6. Would I consider sharing an office?
One overlooked office space opportunity that most solopreneurs and small teams miss is shared office space. A commonly overlooked office space might be a co-working office center. Another overlooked office space might be excess space that a more significant business is not using.
Larger companies have additional offices that they would be opening to renting out on a month-to-month or longer-term basis. Many companies are open to subletting office space, so they've never considered it.
If there is a business in an area of town that you like reach out and ask, you can use LinkedIn or walk up to the front door and ask to speak to the CFO or VP of Finance. CTFO's are usually in charge of facilities, and bringing in a few extra dollars a month is often an easy sell.
You often also get the upside of electricity, water, gas, maintenance, and internet, all included in the monthly cost.
7. Does the Parking meet the Needs of Both my Employees and Customers?
Parking is often a crucial office space issue when searching for your office space. If you are in a crowded city, a single parking spot monthly rental can often equal a car payment!
Find out if your landlord will commit to some number of parking spots included in your lease, especially if you are retail. Will the parking spaces be painted with your business's name?
For employees, try to get free or discounted parking near the office. If an employee has to pay to park to work for you, they will want 100% reimbursement or a higher pay rate to compensate for their parking costs.
You might consider a bus, rail, or subway pass that is heavily subsidized by your business as an alternative to mitigate parking issues.
8. Is the office ADA compliant?
Nothing looks or feels worse than having a client. A customer or employee with an American with Disability Act (Link) condition faces difficulties accessing anything in your place of business. Not only is it embarrassing to most business owners and their employees, but you are also likely to face a lawsuit which you will most assuredly lose.
Read the link in this section, but also make sure that a city business inspector inspects the business for compliance before you sign the lease.
Get the compliance proof in writing from the city inspector. Then, if a lawsuit occurs, you have evidence that you cared enough to get a city inspection and passed.
Also, check your lease and be sure to insert a clause that the building owner is solely responsible for all ADA Compliance. Verify financial reimbursement should a lawsuit be brought against your business for a building-specific ADA Compliance issue.
9. How am I Protected Against Lease Rate Increases?
Being protected against lease rate increases is another often overlooked issue in building leases. Typically, if you sign a multi-year contract, added language will define the maximum and minimum annual lease rate increases.
Sneaky landlords offer a below-market first-year rate to close the deal. Then increase the lease rate dramatically in years 2 through the end of the lease term.
Ensure that the 2nd year rate makes sense. Don't get suckered into signing a lease that you may not be able to afford in later years.
10. Is Everything Discussed Included in Writing in the Lease?
Often office space leasing agents will say almost anything during the sales and negotiation process to close the deal. However, unless whatever they "promised" is written into the lease, they are not legally bound to anything they said. Virtually every lease has a paragraph dedicated to this fact.
Any verbal promises need to get written into the lease.
First, before the agent sends you a lease, send them an email. In the email, have a numbered lists of each item they told you verbally or in other emails would be "in the lease." Tell the agent that any lease they send you for review needs to have each numbered item in your email circled with a matching number in the lease they send to you. State that neither you nor your lawyer will review any lease not written this way.
This method forces the agent to add a supplement to the lease that lists all of their verbal commitments. Otherwise, they come back to you to negotiate.
I also find this method helps to tell them upfront that anything they tell you verbally is "part of the lease," you will hold them accountable. This method tends to keep most agents more honest in what they tell you.
11. Is Furniture Included in the Lease?
We've all been by the example office that, as a model, home is fully furnished. We may love the way it looks but will the office space we get look the same? Usually no. Most office space is bare of any furniture. But there is the worst situation.
The office space may come "fully furnished." However, the furnishing in the office space your lease may be different and not to your tastes. Or, the furnishing may look good but not fit your needs over the term of the lease. What do you do if you need to bring in your furnishings? Often, you will find that your lease specifies:
Removal of furnishings is not allowed, or,
You must pay extra to remove and store any furnishings the landlord provided.
Union labor required to remove something a simple as a desk or bookcase could come into play and cost hundreds of dollars. The labor cost could be more than the cost of the furniture.
Make sure that any shown furnishings will be in your office space. Be sure that if you need to remove any furniture that the landlord is responsible for storage.
12.Who Handles and Pays for Repairs and Maintenance?
You move into your new office space, and a week later, the bathroom toilet overflows and floods part of your office space. Or perhaps the lights go out, and resetting the breakers does not turn them back on. Who pays for repairs and maintenance?
In most cases, the answer is the tenant. Business insurance may cover some issues, so speak with your business insurance agent in advance to find out what is covered. If additional coverage is required, check the cost in advance.
Also, be sure to set aside a budget for simple things like light bulbs, bathroom items, clogged toilets, and similar. Find a good local handyperson who can handle all of these issues when they arrive and put them on your speed dial and make sure your office staff knows to call this person when you are out of the office.
13. What if I sell my company during the lease?
Congratulations! You've had your big payday! Maybe. Did you make sure that your lease doesn't contain a right to your landlord to "agree to a change in ownership"?
Yes, it is true. In some cases, standard leases have a clause that gives the right to your landlord to agree to a "Change in Business Ownership." This clause can limit your ability to sell your company unless the building owner agrees to a lease transfer.
This clause prevents unscrupulous business owners from selling their company to a shell company after sucking out all valuable assets and then declaring bankruptcy. Yeah, people do that sort of stuff.
So, what can you do if the lease proposal in front of you has that clause in it? Negotiate. Yeah, even if you sell your company, you still have to pay for the lease.
Here is where your real estate lawyer earns their keep. They can provide you with wording that neuters this clause with an addendum clause that only requires the acquirer to meet predefined creditworthiness standards and to sign the lease as the responsible party as part of your acquisition documents.
Of course, the business's new owners have to provide proof of business insurance and any other materials you had to give the landlord when you initially signed the lease.
Don't Forget!
One important thing to not forget. If you signed a personal responsibility clause stating you were legally liable for the lease payments if the company did not pay, ensure that the resigned documents remove that personal obligation from the lease.
The last thing you want to happen is to have your credit damaged or have to make lease payments on a building for a company that you no longer own, just because the acquiring company did not may a lease payment or made a late payment.
14. How Many Cars Drive by the Location? (Retail)
This issue is mainly related to retail businesses. If your business relies on a certain percentage of drive-by traffic, you need to know how much drive-by traffic there is for the office space location. If the traffic is light or non-existent, your business will suffer.
To find out these numbers, check with the city department of traffic. Each city maintains this information for a variety of purposes.
One key reason is to determine the resurfacing frequency. Heavily trafficked roads require more frequent resurfacing. Lightly trafficked roads need less frequent resurfacing.
15. What Happens if the Location becomes Uninhabitable
Fire, roof leaks, broken furnaces, or air-conditioners. Damage from a runaway automobile. Lightning strike. Power loss. Any of these things can cause your office location to be uninhabitable. Who pays, and what is the landlord responsible for doing to maintain an inhabitable building?
Who is responsible is a broad legal question? Sadly, it happens more frequently than you might think. If your employees can't do their work or your customers don't have ingress/egress to your business, you're losing money. What should you do?
Step one is to be sure your lease spells out what your landlord is responsible for and what they are not. The latter part of this list, you are liable for handling. In general, anything structural, excluding interior plumbing and lighting, your landlord will generally be responsible. So, if the roof leaks, the landlord will get the roof fixed and cleaned any carpet or flooring-related damage.
If the roof leak damages your furniture or electronics, your business insurance will cover those issues. Your business insurance may go after the landlord for reimbursement for those damages, but you are out of the picture on those background issues.
Step two is to contact your landlord by phone, email, and registered letter and let them know there is a problem as soon as you see an issue.
If this an experienced and good landlord, they will immediately handle anything that their lawyers have previously told them they are responsible for handling.
If you have an evil landlord, this is where your business insurance representative and real estate attorney will come to your aid.
Conclusion: Office Space – 15 Smart Questions
Whatever your decision, be sure to revisit my this article whenever there is a change in your business.
The wrong business space can be very costly in ways that exceed the direct cost of the area. Make sure you have the correct business space for your needs at all times.
With a two-person company that does Executive Coaching, Website Design, Development, Maintenance, Security, and Hosting, I am writing many books. I chose a Business Club as my correct decision.
If you consider a Business Club a viable choice for your business, I encourage you to check out Club Corp (Link). Club Corp has over 300 clubs worldwide, so no matter where you are, there is likely a Club Corp property nearby that you can use, even when traveling.
Want to Learn More?
Please see our main Blog page to find more of our educational articles around Executive Coaching!
Just need to ask a question? Tap the Contact Us button below to reach out to us at IdeaToGrowth.com, and we can help!
"Helping You Build Your Business Stronger!" is our motto.
100% FREE GOOGLE PAGE RANK ANALYSIS
I want to prove my value to "Helping You Grow Your Business Stronger!" by offering a 100% Free Google SEO Pagerank Analysis. Share your homepage URL (Domain Name) and the email I should send your 100% FREE Report and within a day or two I'll point out the Top Items on your business website that are Costing You Customers.
QUESTIONS?
If you're ready for a F2F Zoom chat, or want to ask a quick question by email, click the appropriate link below.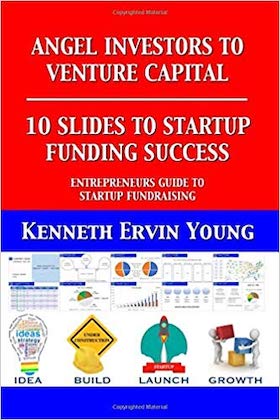 SALES ARE OPEN FOR MY NEW BOOK!
"Angel Investors to Venture Capital –
10 Slides to Startup Funding Success –
Entrepreneurs Guide to Startup Fundraising"
Learn the 10 slides you need to create in order to have a great shot at raising venture capital from venture capitalists!

I'll walk you, slide by slide, how to create content that will attract top venture capitalists to fund your idea, just like I raised over $100M dollars in Silicon Valley for my startups.

I cover every slide in great detail, including not just the words and content, but even font colors, fonts, font sizes, images – all the details to give you the best shot possible!