BEST STARTUP TEAM MANAGEMENT – BUILD A STARTUP TEAM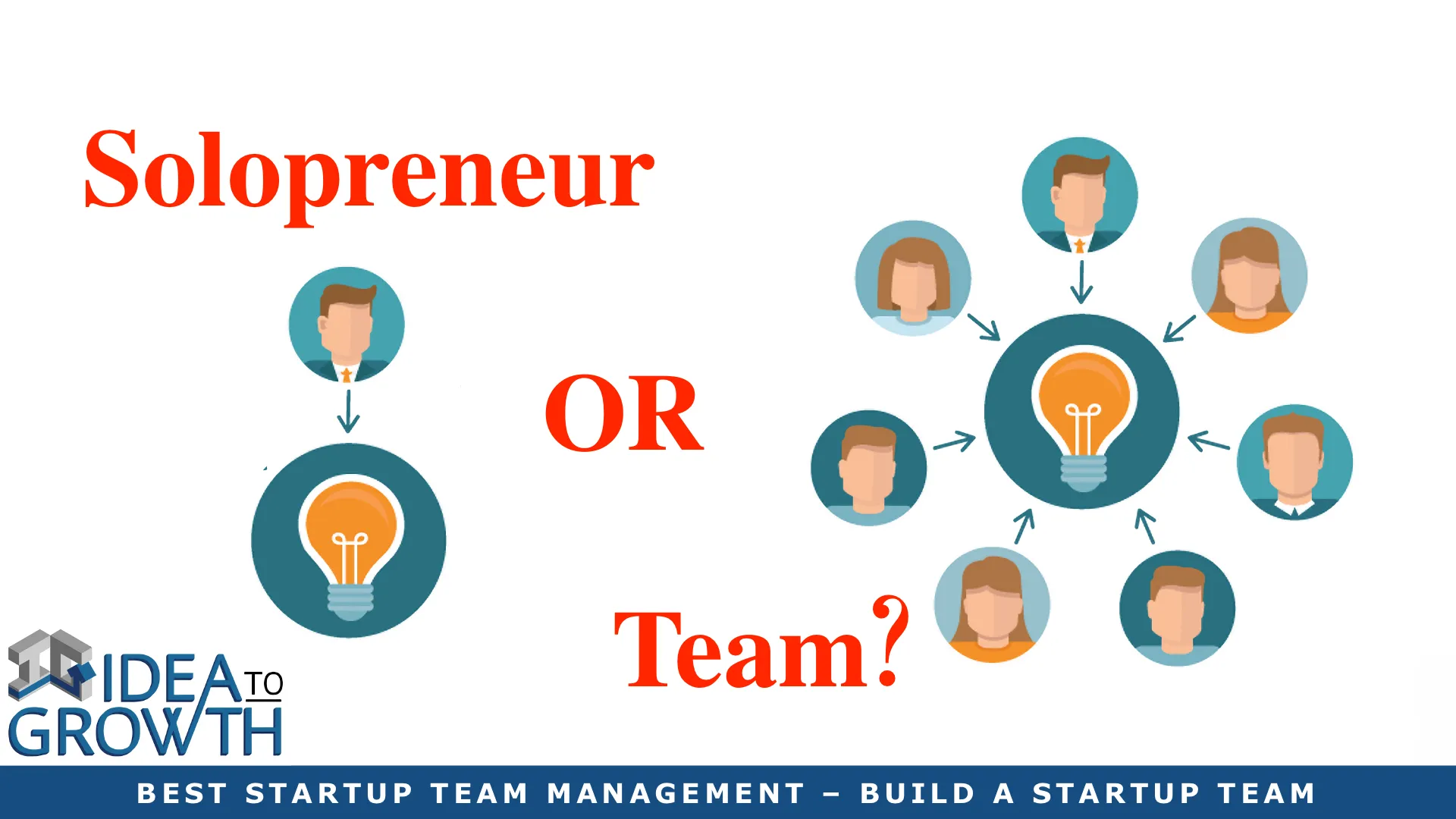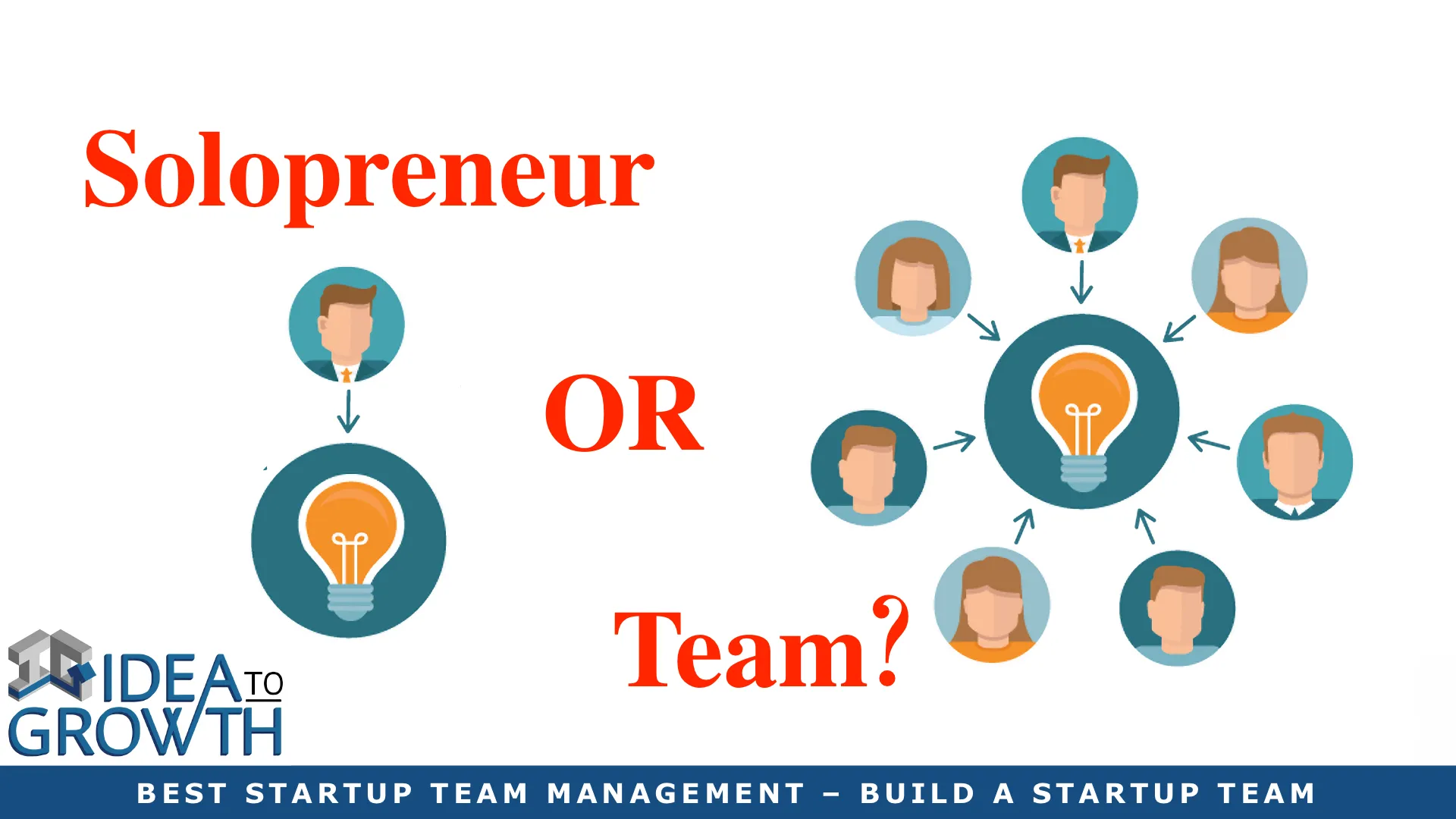 BEST STARTUP TEAM MANAGEMENT – BUILD A STARTUP TEAM
❏ Today I'll talk on Best Startup Team Management. You will learn how to form the best startup team. You'll learn the pros and cons of being a Solopreneur vs having a Team when you start a company. Read this closely as making the wrong decision can cost you big time!
One of my responsibilities as an Executive Coach is helping founders advance from the Idea Stage to the Build Stage. During the Idea stage, the key thing you want to determine what key People Skill Sets does the Idea need? If the Idea requires the building of a financial modeling tool, you'll need a heavy hitter financial person.
If the Idea requires a complex website, you will need an experienced web developer and likely app developer. Do you have working experience in all these areas, plus business development, legal, sales, and team building and leadership? No? Then your idea will need a team to move successfully into the Build Stage.
Now it is true that many, if not most, Ideas occur to a single person, not a team. So the Idea Stage normally begins with a single person. But remember what I've previously stated, An Idea Without Action Has Zero Value. Once you have determined Customers will pay for your solution to their problem, you need to begin assembling your Team. One of the earliest steps as you move into the "Build Stage" of company formation.
Startup Team: Importance [Best Startup Team Management]
Last week in my post Minimum Viable Product – Why Startups Need an MVP, I wrote about why you should construct the MVP (Minimum Viable Product) at the Build Stage. I spoke to how when seeking money from Investors, not Friends and Family; you need a Minimum Viable Product (MVP). Well, you should also have a team.
When I've been hired by Venture Capitalists to assess a company, I always look for a team. When I've been doing my assessments for my personal Angel investing, I always look for a Team. Why? Great question!
I've been a founder or co-founder of many companies throughout my career. Once I cemented the financial viability of my Idea, I started building my team. With my team, I was most often able to create a successful company. I can't imagine trying to Build a firm without a team behind me. There are many jobs to be done, many of which I don't do well or have no interest in doing. I have my skills, and I am clear on what they are. I am also clear on what I am either poor at or have little interest in doing.
Best Startup Team Management: Who Do You Need? [Best Startup Team Management]
Since most company's start as a solopreneur, who should you first start looking to add to have the Best Startup Team Management? That's the right question! I suggest you start by making a list of what you have both "proven skills at." Next, add to that a list of the "things you don't want to do." Note I said "Proven skills at" and not "think will be fun to do." Most startup founders have never been a CEO or President, but they think they should hold this role. Awesome! If you have the desire, you should give it a go. However, go and get yourself a Mentor who has been a CEO or President successfully for many years. You don't have time to make the same mistakes they did. It could kill your company.
I suggest joining a local high technology Accelerator Program as we have with the Tampa Bay WaVE (www.tampabaywave.org). These programs can save you "months" in getting your Idea into the Build Stage and onwards into the Launch Stage. Don't know what I mean by those phrases? You need to learn them. Click on either to learn more.
Now it's time to fill out the rest of your team. For discussion, I'll assume you are forming a high technology SaaS company. These are the roles you'll want to fill immediately:
Bookkeeper/Accountant (1)
Lawyer (1)
Software Developer(s): UI/UX (1-Frontend); Database/Backend (1)
Salesperson (1)
Marketing Person (1)
Many of you may be surprised that I have a bookkeeper and lawyer listed. Many will also be surprised that I have them listed in the first two positions. This list is not intended to be an "order of priority." I do list them because they are key to getting your company started correctly.
Startup Team: Why These Roles First? [Best Startup Team Management]
After your own role, who is Best Startup Team Management member you should add next? We are going to assume that you plan for your company is a success right? If so, it will need funding and proper formation documents. Even if you're going to buy a computer or supplies, don't pay for them out of your checking. Set up a business Checking and Savings account at your favorite bank. There's a good chance that it will be free if you have your banking there. I use Wells Fargo Bank, and it didn't cost me a dime. However, you need your Business Formation Documents, including an EIN to do so. That means you need a lawyer.
Startup Team: But Lawyers are Expensive! [Best Startup Team Management]
Yes, lawyers can be expensive, but what is more costly is not creating the proper Business Entity Formation documents. You don't want to make a mistake with some google downloaded, or the business book bought Entity Formation documents. It can be complicated to know whether you should be an LLC, SMLLC, C-Corp, S-Corp, or Partnership. Also, you have to determine the best sub-category for tax status. If you mess up, later on, you'll wish you spend $250-$1000 and "done it right." Legal work is a part-time outsourced role.
Startup Team: Why Do I Need a Bookkeeper? [Best Startup Team Management]
Yes, I know you are not collecting revenue, but you are spending monies, even if small amounts. If you set your "books" up from the beginning, you'll start tracking your expenses from the get-go. You'll look more "professional" to potential investors. You'll start to learn about terms you'll need to understand as the CEO – Balance Sheet, Income Statement, Statement of Cash Flow and many others. As CEO you don't need to be "expert" at doing the financials, but you need a strong working knowledge. A bookkeeper using Xero Accounting can handle Payroll and Accounting all from one package for $20/month plus $50-$100 per month for their time. Do you want to spend your time doing accounting? Bookkeeping is a part-time outsourced role.
Startup Team: Two Software Developers Plus Marketing? [Best Startup Team Management]
If the primary touch point for your paying customers is your website or application, then you better get it right! You will need skilled persons in both the fields of Marketing and Software development.
In the world of software development, "coders" as they often refer to themselves, often specialize. They refer to themselves as "Frontend" or "Backend" developers. The skill is very different and takes years to "master." You can find individuals who do both, but they will often cost you the same as hiring two specialists. The Frontend person will work with your Marketing person. It's their combined responsibility to get the Look, Feel, Message and Usability of your website correct. Initially, outsource both marketing and software development. Hiring these roles as "contractors" initially can help you determine if you found the right people. Once you're sure you have, hire them, even if you can't afford to pay them initially. Be careful of state and federal laws on employee minimum wages. You, bookkeeper/accountant, can help here, along with your lawyer.
Startup Team: What Do You Do as CEO? [Best Startup Team Management]
The only correct answer IMHO is "Hire, Lead and Keep the Company Funded." Hiring the right core team is your responsibility. Making sure they understand the mission and are working towards it together is your responsibility. Keeping the Company funded is your responsibility. If this isn't the type of work you will enjoy, take another role, start looking for a CEO.
Startup Team Member Not Automatically Co-Owner [Best Startup Team Management]
In next week's post, I'll speak to why working in a startup doesn't "entitle" you to stock in a company.
Conclusion [Best Startup Team Management]
I hope I have convinced you of why every startup needs to know Best Startup Team Management in order to build a successful, fundable company. Build the right team, and you've graduated from the Idea phase to the early stages of your company's Build Phase. Congratulations!
100% FREE GOOGLE PAGE RANK ANALYSIS
I want to prove my value to "Helping You Grow Your Business Stronger!" by offering a 100% Free Google SEO Pagerank Analysis. Share your homepage URL (Domain Name) and the email I should send your 100% FREE Report and within a day or two I'll point out the Top Items on your business website that are Costing You Customers.
QUESTIONS?
If you're ready for a F2F Zoom chat, or want to ask a quick question by email, click the appropriate link below.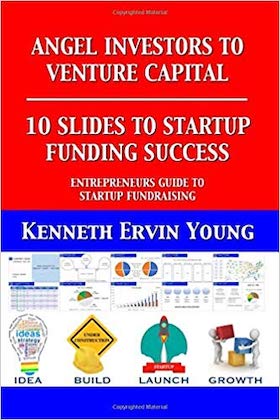 SALES ARE OPEN FOR MY NEW BOOK!
"Angel Investors to Venture Capital –
10 Slides to Startup Funding Success –
Entrepreneurs Guide to Startup Fundraising"
Learn the 10 slides you need to create in order to have a great shot at raising venture capital from venture capitalists!

I'll walk you, slide by slide, how to create content that will attract top venture capitalists to fund your idea, just like I raised over $100M dollars in Silicon Valley for my startups.

I cover every slide in great detail, including not just the words and content, but even font colors, fonts, font sizes, images – all the details to give you the best shot possible!