BOOK – ANGEL INVESTORS TO VENTURE CAPITAL – 10 SLIDES TO FUNDING SUCCESS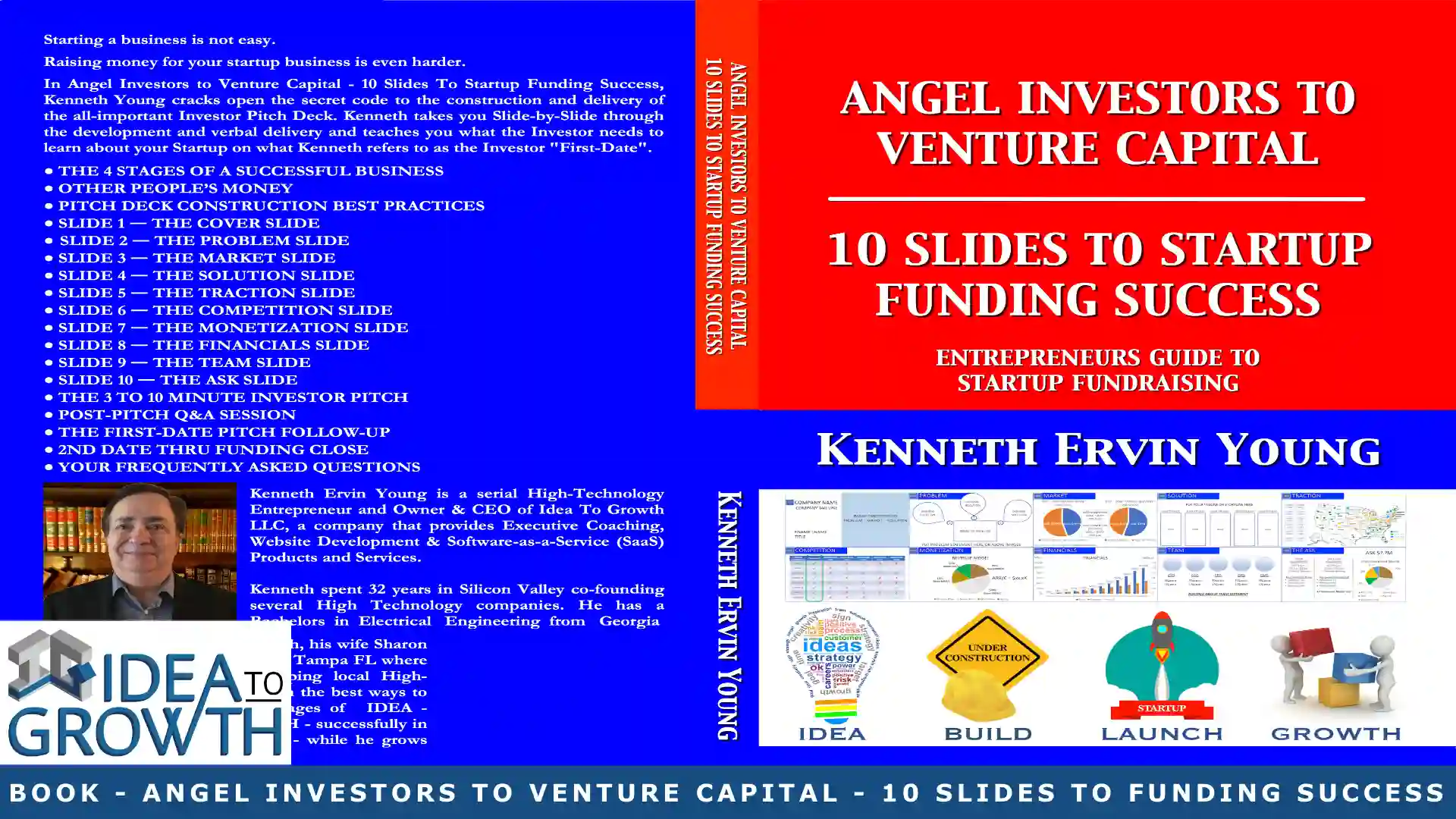 BOOK – ANGEL INVESTORS TO VENTURE CAPITAL – 10 SLIDES TO FUNDING SUCCESS
I pulled the trigger Monday morning on Amazon to Release my New Book:
"Angel Investors to Venture Capital – 10 Slides to Startup Funding Success – Entrepreneurs Guide to Startup Fundraising"
Pre-Launch Day eBook purchasers will have the eBook will be automatically downloaded to your Kindle device on January 22, 2019.
For those not familiar, Amazon allows pre-sales on eBooks – but not on paperback books. I am releasing the paperback to be available at the same time, but it may show up a day or two early or a day or two after. Amazon does not allow authors to set an exact paperback release date. More on why you want to sign up to buy my book during the pre-sales launch a few paragraphs later.
MY BACKGROUND:
I have been coaching Entrepreneurs on How to Raise Investment from Venture Capitalists, Angel Investors and Friends, and Family for many years. This book is my way of reaching out to a larger audience around the world that I can reach through my 1-on-1 and group coaching. My goal with this book is to have a measurable impact on the success rate of Entrepreneurs raising investment capital and for Investors to waste less time with ill-prepared Entrepreneurs.
I spent several months in 2018 doing my research and writing this book. As an Entrepreneur and Electrical Engineer, I'm all about the process. I spent countless hours researching not only for the best way to share my information in the book with both Entrepreneurs and Investors but also how to correctly format the book for paperback and Kindle eBook printing. This education was well worth the time as I now have a documented process for writing and publishing both paperback and eBooks. This will allow me to more quickly write and publish future books in this series and on other topics.
My expertise in writing this book comes from my 25+ years in Silicon Valley. My first company we started way back in 1983 and took to IPO in the middle of 1986. After that, I went on to start several other ventures, the last one I led my team to raise over $87M USD through three rounds of funding from large Silicon Valley Venture Capital firms.
THE BOOK:
Official Book Launch Day is January 22nd!
The eBook version of "Angel Investors to Venture Capital – 10 Slides to Startup Funding Success – Entrepreneurs Guide to Startup Fundraising" will officially be available on January 22nd. I chose January 22nd as it is my birthday and in addition to the cruise my beautiful and wonderful wife is taking me on, I wanted an easy day to remember this book launch.
The paperback version is 298 pages of education. In each chapter covering each of the 10 Slides, an Entrepreneur will learn how to create each slide through both words and images of good and bad pitch slide examples.
At the end each chapter related to the ten-pitch slides I include an executive summary and a slide creation checklist – to make it easy to be sure that you don't leave anything important out – and to be sure to are not tempted to add things you should not include on the slide.
Other chapters cover topics which include how to prepare for Pitch Events and for investor 1-on-1 "First Dates".
Throughout the book, I also include links to the various website that can provide additional helpful information. Some of these links are to my own website. For those who want to save endless hours setting up a presentation template, I offer a set of templates for PowerPoint, Google Slides, and Apple Keynote. The templates follow everything I teach you in the book. Trust me, you'll be glad you got these templates to help you create a killer Investor Presentation.
To give you a better understanding of what you will learn in the book, here is the:
Table of Contents:
● The 4 Stages of a Successful Business
● Other People's Money
● Pitch Deck Construction Best Practices
● Slide 1 ― The Cover Slide
● Slide 2 ― The Problem Slide
● Slide 3 ― The Market Slide
● Slide 4 ― The Solution Slide
● Slide 5 ― The Traction Slide
● Slide 6 ― The Competition Slide
● Slide 7 ― The Monetization Slide
● Slide 8 ― The Financials Slide
● Slide 9 ― The Team Slide
● Slide 10 ― The Ask Slide
● The 3 to 10 Minute Investor Pitch
● Post Pitch Q&A Session
● The First-Date Pitch Follow-Up
● 2nd Date Thru Funding Close
● Your Frequently Asked Questions
That is a lot of material, but it covers all the key topics that both an Entrepreneur and an Investor should be looking to discover when looking to get or make a startup funding investment.
That's right, this book is also written to help investors! How? Two ways.
First, they should make this book required reading and implementation prior to agreeing to meet with an Entrepreneur to learn about their company. Investors who have been around the block a few times hate seeing the same mistakes made by Entrepreneurs repeatedly.
Second, and this is more for the Angel Investors, learn from this book what you should be expecting from Entrepreneurs at first, second and third "Date". If an Entrepreneur can't give you great answers to all of the questions my book suggests you should be asking, then likely this Entrepreneur is not ready for your investment.
SPECIAL PRE-LAUNCH & 48-HOUR LAUNCH DAY PRICING:
This book covers all of the "guts" of what I teach in my $2500.00 1-Day Investor Pitch Coaching Course. Some said I should only sell this book as part of my Coaching Course. Well, I disagree. As I said earlier, I wanted to be able to reach out to everyone with this book.
The paperback version is going to have a regular price of $19.99 on Amazon.
The eBook version is going to have a regular price of $9.99 on Amazon.
So for less than $20 USD, you're going to be able to learn from an Entrepreneur whose companies raised over $100M USD. You're going to be educated on what I learned the hard way – without you making all the mistakes that I did. The advice that I got from Venture Capitalists on what they need to know – and what they don't want to hear about. I hope you'll agree that this education is worth multiples of these prices.
But I'm going to give you what likely will be a "ONE-TIME DEAL".
In order to get the strongest launch possible, I am going to offer the eBook version at a 'ridiculously' low price.
SHHH – CLICK THIS LINK FOR DISCOUNT!  =  eBook Link
BUT ONLY FOR the Pre-Launch Days and for TWO DAYS after on January 22nd through 23rd.
The Paperback I am discounting to an incredibly low price of:
SHHH – CLICK THIS LINK FOR DISCOUNT! =  Paperback Link
Plus, if you buy the paperback, you can download the Kindle version for only $0.99 USD directly from Amazons Free MatchBook program!
So if you buy the paperback version, you're getting nearly $30 USD worth of my book for under $16 USD. That's nearly 50% off!
MY REQUEST:
All I ask in return for this incredible pre-Launch and first 48 hour Launch Day discount is that you:
LEAVE ME A REVIEW ON AMAZON!
Book sales are heavily influenced by the Total Number of Reviewers AND the number of 5-Star Reviews.
Now I'm not asking you to leave me a 5-Star review – unless you think the book deserves it – But I'm hoping you will agree that it does!
Some of you will think there is more I should have added to this book. Well, if you are willing to email me at [email protected], there's a good chance I'll include your ideas in the Second or Third Book in the Series. Please share your ideas, but please don't take stars away because I stopped writing at just shy of 300 pages!
Thank you!
Kenneth Ervin Young
Entrepreneur, Business Coach & Author.
100% FREE GOOGLE PAGE RANK ANALYSIS
I want to prove my value to "Helping You Grow Your Business Stronger!" by offering a 100% Free Google SEO Pagerank Analysis. Share your homepage URL (Domain Name) and the email I should send your 100% FREE Report and within a day or two I'll point out the Top Items on your business website that are Costing You Customers.
QUESTIONS?
If you're ready for a F2F Zoom chat, or want to ask a quick question by email, click the appropriate link below.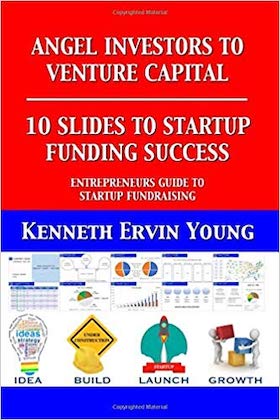 SALES ARE OPEN FOR MY NEW BOOK!
"Angel Investors to Venture Capital –
10 Slides to Startup Funding Success –
Entrepreneurs Guide to Startup Fundraising"
Learn the 10 slides you need to create in order to have a great shot at raising venture capital from venture capitalists!

I'll walk you, slide by slide, how to create content that will attract top venture capitalists to fund your idea, just like I raised over $100M dollars in Silicon Valley for my startups.

I cover every slide in great detail, including not just the words and content, but even font colors, fonts, font sizes, images – all the details to give you the best shot possible!