GOOGLE BUSINESS PROFILE SETUP SERVICE
GOOGLE BUSINESS PROFILE SETUP SERVICE (aka Google My Business)
What Is Google Business Profile (Formerly Google My Business)?
Google Business Profile (formerly Google My Business) is an easy-to-use tool for businesses and organizations to manage their online presence across Google – including Search and Maps. To help customers find your Business and tell them your story, you can verify your Business and edit your business information.
Why Is Having A "Google Business Profile" Important To My Business?
Having a Google Business Profile has always been critical because it's often the first thing your customers notice when searching for your Business. The benefits of having a Google Business Profile are many. Here are a few key benefits to give you an idea of what's to gain by optimizing your Google Business Profile account:
A completed Google Business Profile listing can single-handedly improve a business's local SEO ranking.
It sets an immediate first impression for searchers who see your Business's essential info listed on the right-hand side of the interface.
Google Business Profile has Google Maps integration, making it easier to find your Business on the world's most widely used mobile map and directions app.
Direct messaging optionality — customers can send messages directly to your company phone or email via the Google Business Profile interface.
Customer reviews are displayed under your Google Business Profile profile, giving your business social credibility that rivals Yelp or Trustpilot.
The decline of crowd-sourced review apps like Yelp has helped propel Google Business Profile to new heights. More often than not, I find that customers use Google Business Profile to source opinions and reviews of a business rather than other platforms, so it helps keep your Google Business Profile active and well-curated.
Master Google Business Profile For Better Business In 2022 And Beyond
A recent Google report found that 60% of smartphone users contacted businesses directly through the Google Business Profile interface using the "click to call" option. Google Business Profile is no fad, as most shoppers have used it as their primary contact method with local businesses.

Amid the Covid-19 pandemic, it's more crucial than ever that you utilize and optimize Google Business Profile to display accurate, updated information about your Business. Think of your Google Business Profile panel as the first point of contact between you and your customer. If your business hours or description are out of date, you can lose a customer's trust and miss out on the lifetime value of the relationship.
Every Business MUST have a Google Business Profile Listing.

Why?

Google Search is very biased!

If you DO NOT HAVE a Google Business Profile, statistics show you are unlikely TO APPEAR ON PAGE 1 OF A GOOGLE SEARCH!

If you type in your business name, the first thing that usually shows up is the content set up on your Google Business Profile account. Suppose You Don't Have a Google Business Profile. In that case, you are unlikely to appear on Page 1 for any of your crucial Search Keywords, and potential clients notice and will often "pass you by" and pick a competitor that DOES HAVE a Google Business Profile.
HOW DO I KNOW IF I HAVE A GOOGLE BUSINESS PROFILE?
Google makes it Easy!
Step 1: Open Your Browser
Step 2: Open a New Tab (usually tap the "+" sign in the tab row at the top of the browser)
Step 3: In the Search / URL field, enter your URL "without" the dot com (e.g. "ideatogrowth"). Tap the Enter Key.
Step 4a: If you DO HAVE a Google Business Profile, you should see your business in the red box below, with the text "You manage this Business Profile" and WITHOUT the text "Own this Business? Suggest an Edit" text link.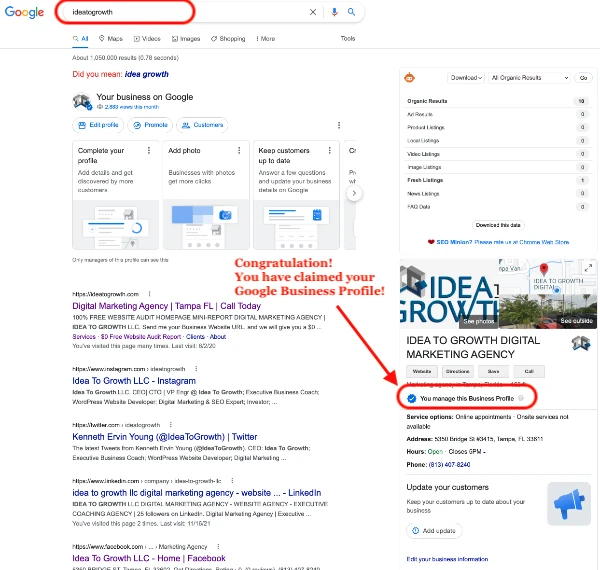 Step 4b: If you DO NOT HAVE a Google Business Profile, you should see your business in the red box below, WITH the text "Own this Business? Suggest an Edit" text link.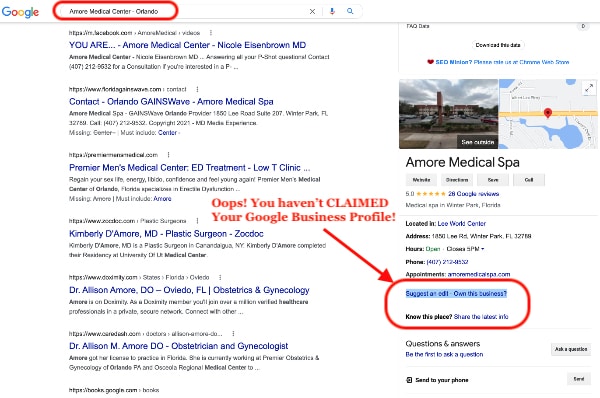 Step 5b: Only if you see the text: "Suggest an edit · Own this business?" in the search results red box – Tap the text link "Own this business?"
Step 6b: The page will reload and you should see this next image (but with your business info).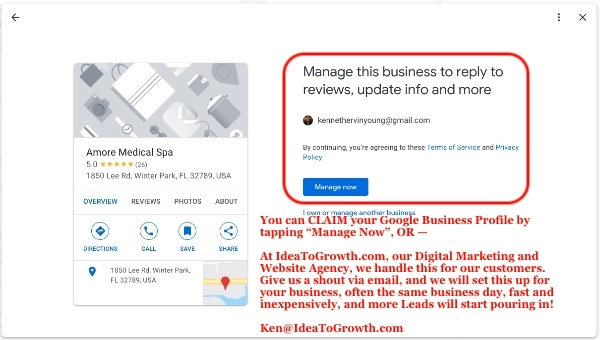 Step 7b: If you see the above screen image this means

YOU HAVE NOT CLAIMED YOUR GOOGLE BUSINESS PROFILE!

Step 8: You have three choices:

Option 1: Do Nothing and Lose all the

FREE ORGANIC CUSTOMER LEADS

Google can send you.
Option 2: Claim your Google Business Profile listing and try to correctly fill out all the fields in the "Best Way" to generate all the FREE ORGANIC CUSTOMER LEADS Google can send you (it's kind-of technical to do it right).
OPTION 3: Contact me at

[email protected]

and we'll Set Up your Google Business Profile for you very inexpensively, often the same business day, and Google will

START GENERATING YOU FREE ORGANIC CUSTOMER LEADS TO HELP YOU GROW YOUR BUSINESS

!
THE BEST CHOICE? OPTION 3!
Setting up a Google Business Profile optimized for helping you get ranked on Google Search is one of our specialties!

We have learned the art of crafting your Google Business Profile so that your Business will "Stand Out" from your competition.

Google Business Profile has rules on image sizes for each section.

Google Business Profile also sets the maximum number of characters in each section.

Would you please keep reading to learn more about the Google Business Profile Services we offer?
GOOGLE BUSINESS PROFILE SETUP SERVICE
If you set up the Google Business Profile "the right way," you can help your "discovery" of your Business.

Included in our Package:
Logo Resizing and Setup
Full Setup with On-Page SEO
100 Score with Grammarly (Correct Spelling & Grammar)
Add the Business Details and Info you Provide
Create a Custom Google Business Profile Cover Image (Your Website Header is often a good choice for consistent "look and feel")
Set Your Business Location on Google maps
Set up the Vanity URL
Add a Call-to-Action (CTA) Button Hashtag setup
Add Your NAP (Name Address Phone)
Add Your Website Link
Add Your Hours of Operation
Add Your Payment Methods
Select Your Business Categories
Add Your Description
How Long Can Your Google Business Profile Description Be? Google has set a limit of 750 characters. Seven hundred fifty characters isn't a lot, so you need to prioritize the details you want to include carefully. Google will only display the first 250 characters of your description.
Identify Reviews that Need Your Replies (Use keywords and locality words (city) in replies). You should check at least weekly and respond.
Add 4 Posts From Your Blog (No Posts? We can write four blog posts for you! (separate fee)). You should add 1 Post/week.
Add 2 "Deep Links" Using Bitly (https://bitly.com/ ) to Product, Service, or Blog Pages.
Set up the First 10 FAQs that are SEO Friendly. (Use questions clients usually ask and reply, at least 10 per month using of course keyword and Location when possible.)
Add First 10 Images to Google Business Profile (You should add 10+/Month to maintain and improve your Google SERP (Search Engine Results Page Ranking).
Add a Video to Your Google Business Profile. (No Video? We can help!)
Identify if the Google Business Profile on the contact page of your website. (Not there? Have your web admin add it. No web admin? We can help!)
Identify if the Google Business Profile is displaying Google Reviews on your website. (Not just text! You want to use as many Google assets as possible on your website. We can recommend a plugin for your webmaster to install. No web admin? We can help!)
PRICES
We do our excellent Google Business Profile Setup for a very low $499
SPECIAL: $297 (includes 1-year of Support)

.

Support after the first year is available for a low $8.25/month (Annual Pricing)
QUESTIONS?
It's likely you have some questions. We're here to answer them. Fill out the form below and you'll get an email with a link to set up a 15-minute Zoom chat during which we'll answer all your pre-sales questions.
*** AFTER TAPPING "SUBMIT" CHECK YOUR EMAIL FOR A CONFIRMATION MESSAGE FROM US AND FOLLOW THE INSTRUCTIONS. ***
READY TO BUY?
You've Done Your Research and It's Time To Get Google Business Profile Bringing You More Prospect That You Can Turn Into Customers – Congratulations! Tap the Button Below to Buy Our Google Business Profile Setup Service.
RELATED SOCIAL MEDIA SERVICES