Sale!
#1 Best Google Business Profile Service
Google Business Profiles (aka Google My Business (GMB) Listing) is the FREE Google Search Business Listing that is a "MUST" for every business owner that wants Google FREE HELP in GETTING MORE LEADS that you TURN INTO CUSTOMERS! Grab My Special Pricing Now Before the Price Goes Up!
GOOGLE BUSINESS PROFILE SETUP SERVICE
GOOGLE BUSINESS PROFILE SETUP SERVICE (aka Google Business Profile)
WHAT IS GOOGLE BUSINESS PROFILE (AKA GOOGLE MY BUSINESS)?
Google Business Profile (GBP) (Previously called Google My Business) is an easy-to-use tool for businesses and organizations to manage their online presence across Google – including Search and Maps. To help customers find your Business and tell them your story, you can verify your Business and edit your business information.
WHY IS HAVING A "GOOGLE BUSINESS PROFILE" IMPORTANT TO MY BUSINESS?
Having a Google Business Profile has always been critical because it's often the first thing your customers notice when searching for your Business. The benefits of having a Google Business Profile Listing are many. Here are a few key benefits to give you an idea of what's to gain by optimizing your Google Business Profile account:
MASTER GOOGLE BUSINESS PROFILE FOR BETTER BUSINESS IN 2022 AND BEYOND
A recent Google report found that 60% of smartphone users contacted businesses directly through the Google Business Profile interface using the "click to call" option. Google Business Profile is no fad, as most shoppers have used it as their primary contact method with local businesses.

Amid the Covid-19 pandemic, it's more crucial than ever that you utilize and optimize Google Business Profile to display accurate, updated information about your Business. Think of your Google Business Profile panel as the first point of contact between you and your customer. If your business hours or description are out of date, you can lose a customer's trust and miss out on the lifetime value of the relationship.
WE PROVIDE THE GOOGLE BUSINESS PROFILE SETUP SERVICE THAT EVERY BUSINESS NEEDS
Every Business MUST have a Google Business Profile Listing.

Why?

Google Search is very biased!

If you DO NOT HAVE a Google Business Profile, statistics show you are unlikely TO APPEAR ON PAGE 1 OF A GOOGLE SEARCH!

If you type in your business name, the first thing that usually shows up is the content set up on your Google Business Profile account. Suppose You Don't Have a Google Business Profile. In that case, you are unlikely to appear on Page 1 for any of your crucial Search Keywords, and potential clients notice and will often "pass you by" and pick a competitor that DOES HAVE a Google Business Profile.
HOW DO I KNOW IF I HAVE A GOOGLE BUSINESS PROFILE LISTING?
Google makes it Easy!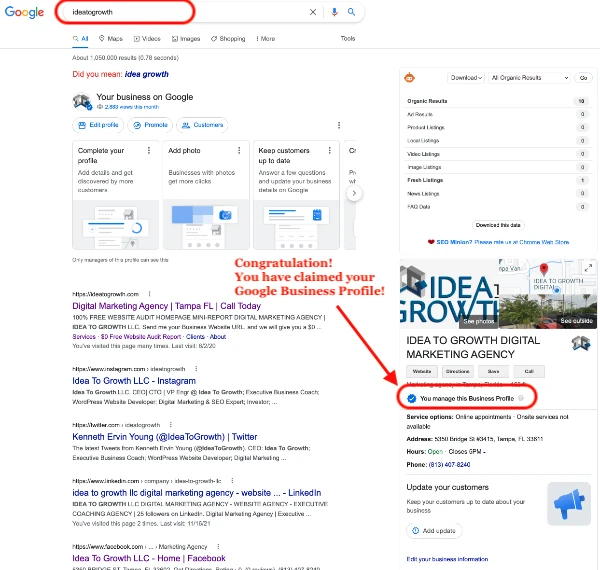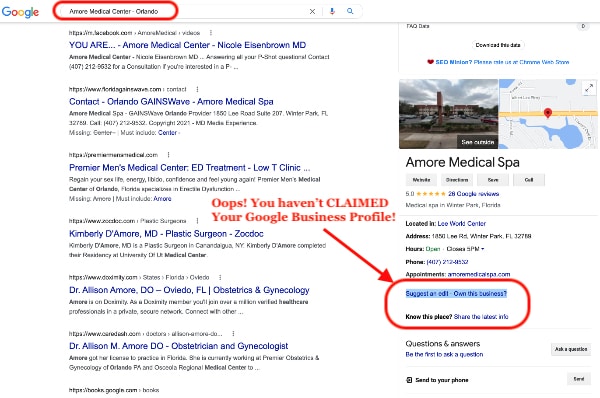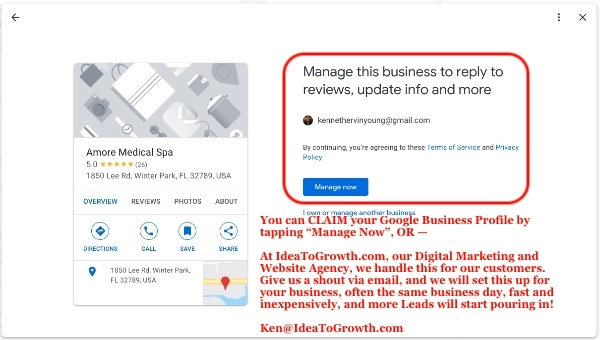 THE BEST CHOICE? OPTION 3!
Setting up a Google Business Profile optimized for helping you get ranked on Google Search is one of our specialties!

We have learned the art of crafting your Google Business Profile so that your Business will "Stand Out" from your competition.

Google Business Profile has rules on image sizes for each section.

Google Business Profile also sets the maximum number of characters in each section.

Would you please keep reading to learn more about the Google Business Profile Services we offer?
GOOGLE BUSINESS PROFILE SETUP SERVICE
If you set up the Google Business Profile "the right way," you can help your "discovery" of your Business.

Included in our Package:
PRICES
We do our excellent Google Business Profile Setup for a very low $499 SPECIAL: $297 (includes 1-year of Support).

Support after the first year is available for a low $8.25/month (Annual Pricing)
CONTACT US FORM
You likely have some questions. We're here to answer them. Fill out the form below, and you'll get an email with a link to set up a 15-minute Zoom chat, during which we'll answer all your pre-sales questions.
*** AFTER TAPPING "SUBMIT," CHECK YOUR EMAIL FOR A CONFIRMATION MESSAGE FROM US AND FOLLOW THE INSTRUCTIONS. ***
READY TO BUY?
You've Done Your Research and It's Time To Get Google Business Profile (aka Google My Business) Bringing You More Prospect That You Can Turn Into Customers – Congratulations! Tap the Button Below to Buy Our Google Business Profile Setup Service.
RELATED SOCIAL MEDIA SERVICES